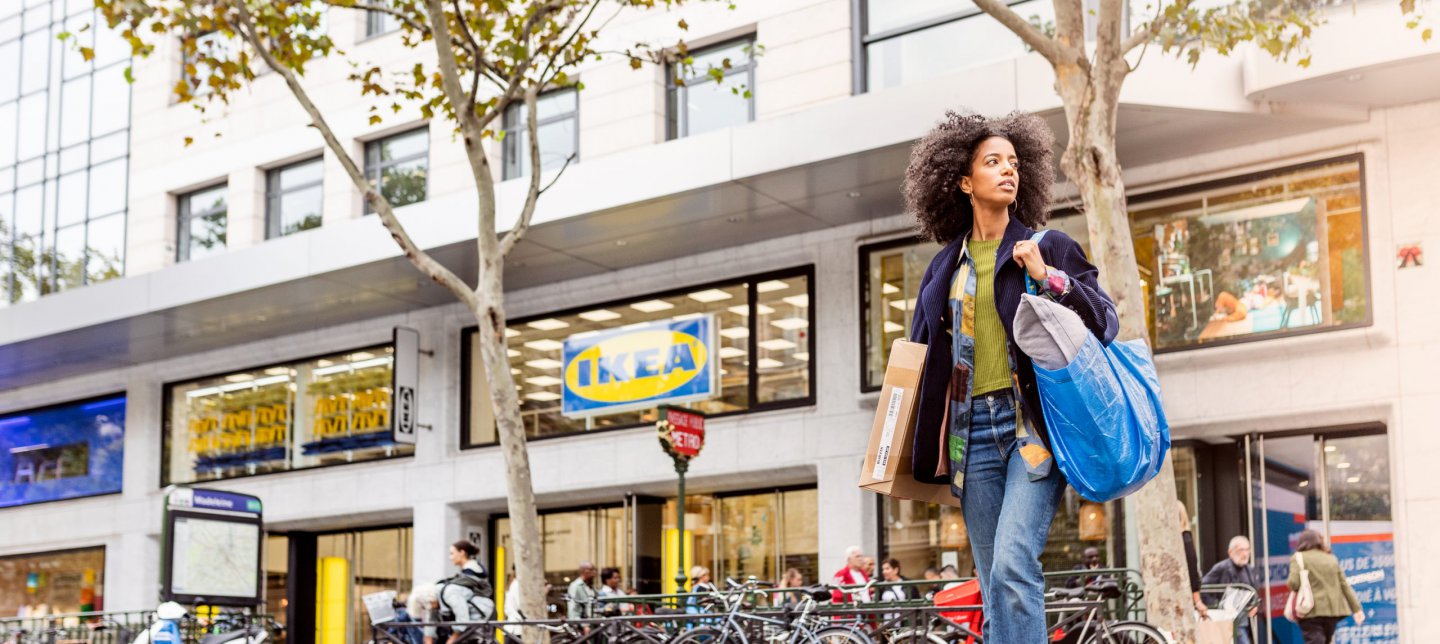 Big moves into big cities
To reach new customers and bring IKEA closer to where people live, work and socialise, we're expanding fast in several big cities. Complementing our blue box IKEA stores, we're adding a variety of new IKEA formats – always hand in hand with an improved digital experience.
Bringing the IKEA home furnishing offer to more people isn't just about adding locations and entering new countries. As demographics and consumer behaviours change, we're also looking at how we can deepen our impact in the big urban areas where we already have a strong presence. Even in our biggest countries, we have a great potential to grow with a variety of formats, locations and digital customer meeting points that complement each other and meet different needs at different times.

An IKEA for every occasion
Saturday with your family at the IKEA store, an impulse buy on your lunch break in the city, a midnight purchase on your phone. sometimes you want the full IKEA store experience; sometimes you want to see a kitchen planner over coffee on your way to work; and sometimes you just want a new door mat right away. We want to make sure we are there when you need us.
A new mix of IKEA formats
To make the full IKEA experience better than ever, we're investing heavily in our blue box stores. We're also adding a mix of existing and new formats in 30+ cities, including stores and IKEA planning studios for more complex purchases like kitchens and bedrooms – always closely integrated with an improved digital experience.
A blue box delivery network
In the multichannel era, logistics is key. Our network of blue box stores gives us a big competitive advantage when it comes to cutting lead times and offering faster and more sustainable home deliveries – even for bigger furniture and items bought online or in a city location.
The journey has just begun
Starting with new IKEA formats in London, Madrid, Moscow, New York and Paris, to name a few, we're expanding fast in 40+ cities over the next few years. In FY19, we opened 42 new stores and fulfilment units, and we plan to open many more in FY20.
As we keep growing, we'll be wherever people are – whenever and however they want to meet IKEA. It's never been a more exciting time in terms of expansion and customer focus. We're thrilled to create better ways to serve our existing customers and keep reaching new customers. With this city expansion and our variety of digital and physical formats and customer meeting points, we keep working towards our vision to create a better everyday life for the many people – many, many more of the many people.
IKEA now comes in different sizes
IKEA store
The blue box IKEA store is where you always get the full IKEA experience, all under one roof – plenty of inspiration, food and all the help you need to plan your home. Come here to get ideas, advice and to try out the products. You can take your purchases home right away – unless you prefer home delivery or collecting at an IKEA pick-up point.
Smaller format IKEA store
These stores are much like the IKEA stores (including the food!), just smaller and closer to where you are. Inspiring room settings and digital tools let you discover and order the full range, and you can buy and bring home most home furnishing accessories directly. Larger items will be delivered to your home or the closest IKEA store or IKEA pick-up point.
IKEA shop
Lets you and your fellow city-dwellers explore a specific part of our range – be it bedrooms, small space living or other home furnishing themes. All IKEA shops are centrally located and carry a range of items you can take away on the day. Products can be planned, ordered and purchased.
IKEA planning studio
Here, we offer personalised, one-on-one advice from our home furnishing specialists on solutions for kitchens, bedrooms, storage, bathrooms and more. There are no items to bring home right away, but all relevant products are here for you to touch and try. And the full range can be planned, ordered and purchased.
IKEA pick-up point
An IKEA pick-up point makes it easy to collect your purchases where and when it works for you. It's an accessible and affordable alternative to home delivery or to bringing your products home from the store yourself.
IKEA pop-up
An IKEA pop-up highlights a specific theme, event or message. Marketing-driven and available for a limited time only, they give us a great opportunity to try out fun, bold and innovative ideas. That way, we hope to inspire you in new and unexpected ways.