IKEA Retail Sweden piloting new store experiences
IKEA Sweden is investing in new store formats and digital solutions to better meet our customers' needs.
Evolution at home
Over 75 years ago, IKEA was born in Älmhult, Sweden. Today, IKEA Retail Sweden operates 20 stores throughout the country which serve millions of customers every year. Sweden is home of the traditional IKEA concept and almost every Swede has had an IKEA store nearby for many decades, but it's also where we're seeing some of our latest innovations.
In FY18, IKEA Retail Sweden increased its ecommerce sales by 46 percent compared to the previous year. Contributing to this was a stronger digital experience with easy checkouts, a new ecommerce distribution centre outside of Stockholm, and the fact that all twenty IKEA stores in Sweden offered 'click and collect' as well as home delivery within 24 hours.
In-store sales are stable and building on our strengths as we transform we want to offer new, innovative and exciting ways for the customers meet us. That way, we can build on our growth for an even stronger FY19 and years to come.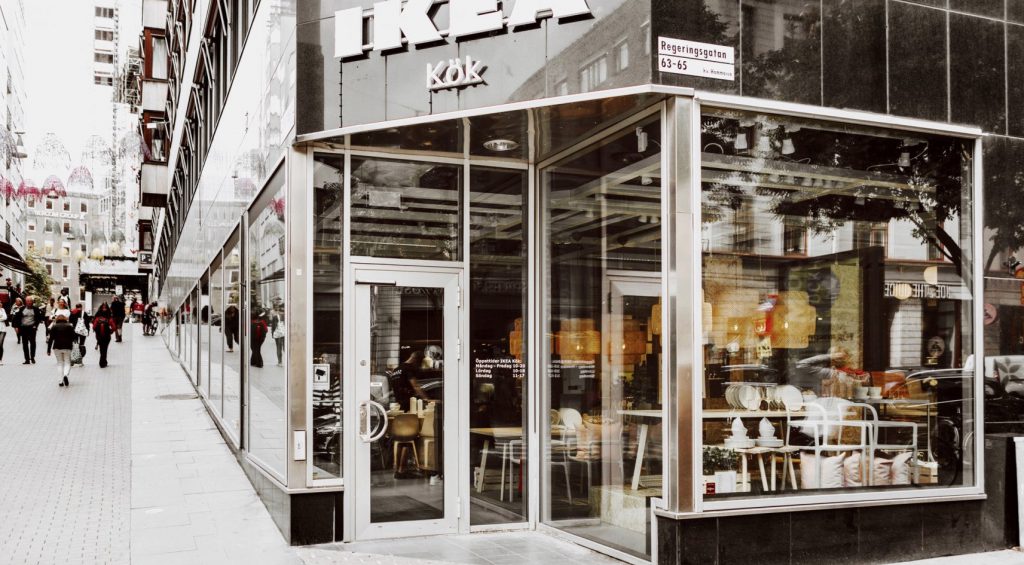 Building a new store experience in Kållered
Construction is underway for our new IKEA Kållered store, located just outside of Gothenburg, and it will offer a new customer experience. The store is being built next to the 46-year-old existing one, but with a new, modern design which will allow for more daylight through large glass window sections, easy access with multiple entrances and a new food experience. Anna Bryngelsson, Store Manager, IKEA Kållered:
"The idea is to make it more convenient and inspiring to visit, and we will do that by revitalising the traditional IKEA experience. We will offer new and improved ways of navigating the store and rather than having to follow a single path through, we will make it easier for customers by using more of a shop layout, increasing the customers' possibility to choose what they see. This means our range and home furnishing expertise can better shine through."
Convenience and accessibility are really at the heart of this project, so the store needs to be easy to get to, but we also need to offer the right services to make getting furniture home as simple as possible. To encourage people to use their cars less, we will have direct links to public transport, which can also contribute to our goals of reducing environmental impact. In addition, it will also be a more sustainable store thanks to a more modern construction in line with BREEAM1certifications.
The IKEA Kållered store will also be a fulfilment store, meaning we are optimising our traditional IKEA stores to support with last mile delivery. The traditional customer self-serve areas will be made smaller and will be replaced by a distribution space that in turn will allow for faster and more affordable home deliveries to the Gothenburg region. For customers looking to pick up their orders outside of opening hours, lockers will be available where they can collect their purchases when it suits them.
The ambition is to integrate the new store with a new Ingka Centres meeting place, as the current Kållered retail area will be rebuilt. For Ingka Centers it is early days in the planning stage, but there is a common vision about this area in cooperation with the municipality.
1) BREEAM is a world leading sustainability assessment method for master planning projects, infrastructure and buildings. It recognises and reflects the value in higher performing assets across the built environment lifecycle, from new construction to in-use and refurbishment. Source: https://www.breeam.com
A kitchen success
The kitchen shop in central Stockholm, IKEA Kök, started as a test. The plan was to have it open for a 6-month period to see what insights could be gained, and how the customers would respond to this new way of meeting IKEA. However, it was so popular that we decided to keep it open.
Our IKEA kitchen specialists are in demand and have really contributed to the success of this format. We show the greatest of our kitchen range and related accessories in the street-facing windows, which inspires passers-by and demonstrates our deep knowledge of this important part of the home.
"IKEA Kök combines our wide kitchen range with the service offer, and the expertise of our competent co-workers," says Miriam Swärdh, Store Manager at IKEA Kungens Kurva. "Our co-workers are doing a fantastic job of making this unit a success. Customers appreciate the design and quality of the kitchens – some have even asked if we sell a special range and are surprised when we say that it's IKEA's regular range. Many customers did not have IKEA on their shopping list before we opened this unit. This shows that IKEA Kök, being where it is, has real value for us and demonstrates our home furnishing expertise."
Meeting customers anywhere
Sometimes, customer service works better face-to-face, but it's not always as easy for people to get to one of our stores to meet a co-worker. To be able to meet them where they are, we needed a new approach. We decided to combine the personal touch with the digital experience, which has resulted in the development of the IKEA Samsyn app. This offers customers in Sweden support in five key areas: troubleshooting, interior design help, kitchen follow-up, support for smart home solutions and language support.
"We need to be where the customer needs us. Through IKEA Samsyn we can provide support in a completely different way, while at the same time gaining a better understanding of the customer and their daily life. Our co-workers are also given the opportunity to grow by testing new things," says Rickard Månsson, Business Developer at IKEA Retail Sweden.
The ambition is to digitally pair customers' needs with co-workers who have the right competence to solve their problems. Thanks to this digital solution, we can develop a stronger relationship with our customers by being able to offer individual help at the right time, in the right place.
Facts IKEA Retail Sweden
Total retail sales: 1.8 billion Euro

Visits to IKEA stores: 38 million

2.9 million IKEA Family members

Visits online: just over 90 million (10 percent increase compared with last year)

IKEA Food sales 0.1 billion Euro

Kitchen, living room and storage make record listings and are the best-selling product categories during the year
Read more about our efforts and achievements in our Annual & Sustainability Summary Report for FY18.