Creating the IKEA experience of tomorrow
To meet our customers' changing needs and become even more accessible to the many people, we are completely transforming the way we do our business.
Every year, we meet millions of people around the world in our retail locations. For 75 years, IKEA has been serving the many with home furnishing knowledge, our unique IKEA range and the IKEA experience in our stores. But we know that customer expectations of us are changing, and to continue to make life better for more people, we are changing too.
The Ingka Group Retail Direction is a way for us to take a total look at our business opportunities, but also challenges, and will help us prioritise. We are excited and ready to identify and create a movement where, over the next three years, all of us 158,400 co-workers are getting ready to pull in the same direction. It's our culture of togetherness, simplicity and giving as well as taking responsibility that drives us to constantly improve our way of working. In everything we do, we focus on achieving our vision: to create a better everyday life for the many people.
Historically, we have made ten- year plans for IKEA, which later have become five-year plans – and now we're down to three. With the pace of change that is happening around the world, ten-year plans are no longer realistic. Until today it has been natural for our customers to go to our IKEA stores, walk around and have something to eat and then pick up their products from the self-serve area and drive home. We know that many people will continue to do so and we will make that experience even better, but more and more people have the need for new types of services to be able to shop at IKEA. Whether that's how to choose their furniture, how to get it home, or how to get it assembled, our customers' expectations are constantly changing.
IKEA is changing, too. We don't want to replace anything, but we are exploring new ways and looking at new opportunities for customers to interact with IKEA. So if we are determined to come closer to where the customer is, complementing the IKEA experience with new formats and channels, it's clear that our plans also need to be updated.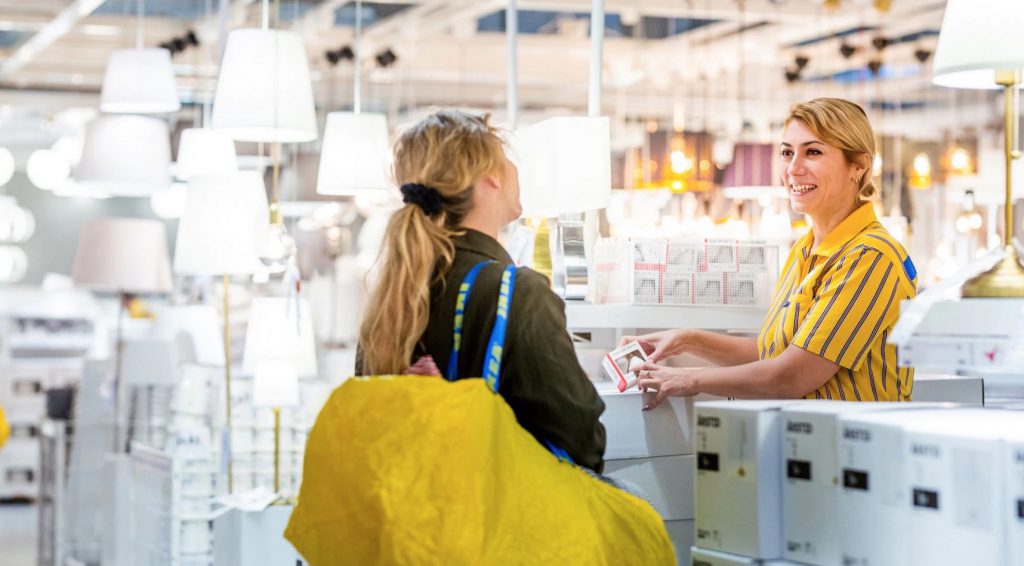 Creating the IKEA store of tomorrow will be one of the most business-critical jobs. We're going to reinvent our stores so that they become more like experience centres for life at home than pure destinations for purchase. Another key development is how we will integrate our stores as part of our fulfilment and distribution network. So far, we have been very good at handling incoming logistics to our stores and then our customers have managed the outgoing. Going forward, we will be equally good at managing outgoing logistics, which is what will make the difference. In many places, we are already finding ways to utilise existing space in a more efficient way. Using our stores as fulfilment units will enable and facilitate faster, more convenient distribution to our customers – however they choose to shop.
The plan is to be wherever the customer needs us to be. Whether that's in the form of a city centre location, or by offering a great experience online, we are becoming more accessible and available. We are also making furniture assembly easier through TaskRabbit, the home services business we acquired last year, in the USA, Canada and the UK, with more markets to follow in 2019.
Digital transformation is also changing the way we see our stores and provides us with great opportunities. Online functions will complement the store experience, but the stores will also drive the online business. At the moment, we display our entire range in store for people to see the measurements and see how each piece of furniture would fit in their homes. But we know that 80% of customers begin their journeys with IKEA online, enabling them to research the many options we offer. This creates a great opportunity for us to interact with customers in even better ways, spending more time on inspiring and providing home furnishing advice.
"Our co-workers are, and always will be our biggest assets. They are the ones serving the many people, sharing home furnishing knowledge to improve people's lives."

Tolga Öncü, Retail Operations Manager, Ingka Group
Our co-workers are, and always will be, our biggest assets. They are the ones serving the many people, sharing home furnishing knowledge to improve people's lives. They are also the core of the IKEA experience, whether that's in the city centre or in our big stores. When you think about your best, most recent experience in retail, it's almost always related to a human being going above and beyond. Also, when more and more becomes digital, the value of the human interaction increases. We see the desire from our co-workers to offer this experience to every customer, whatever it's in the stores, in a video meeting or on the phone.
We're not replacing anything, but we are looking to complement the existing IKEA experience. The more we can add, and the more we can offer to our customers, and continue to create a better everyday life for the many people over the next 75 years.
Tolga Öncü
Retail Operations Manager, Ingka Group
Read more about our efforts and achievements in our Annual & Sustainability Summary Report for FY18.