This article showcases the Bloom initiative at Ingka Group (IKEA Retail), a fast-track program aimed at developing talents from across the company into market managers in just three years, with the ambition to create a diverse succession pipeline for Ingka Group. The initiative is one way for the company to uncover hidden talents and grow talent from within, helping to secure a talent pool for one of IKEA Retail's key roles. The article highlights the journey of Dilara Aybar, a 29-year-old Bloom participant from Germany, as she shares her experiences in the program and the lessons she's learned about leadership. With a focus on personal growth, the Bloom initiative is set to make a mark in the history of IKEA.
Ingka Group wants to enable all its co-workers to perform, grow and develop at IKEA, and the ambition is to reflect the societies it operates in at all levels of leadership. The company's Bloom initiative is one way to achieve that.
Bloom is a fast-track programme that aims to develop top talents into market managers in three years' time. Market managers are responsible for connecting co-workers with customers and turning long-term strategies into the best customer experiences and great business outcomes within a market.
Launched in 2021, the programme has 104 participants from 24 countries, representing 35 nationalities. The average age of Bloomers is 26, meaning they'll be 29 when they become market managers.
"The Bloomers are now starting to create their own space and find their voice in the ways necessary to become future leaders," says Claudio Valente, Global Talent Manager at Ingka Group. "It´s an ongoing journey but they are for sure on their way, and we can see that Bloom is making a mark in the IKEA history."
The programme offers a well-rounded career plan covering three positions within a three-year period, which will allow participants to gradually advance and develop. They begin as Group or Team leaders, move to become Department heads and finish as Deputy Store or Customer Meeting Point (CMP) managers for one to two years. To support their fast-track development they participate in various trainings, like omnichannel and leadership training aimed to challenge them and support their growth. They also contribute to country business planning weeks and work on other country and global projects.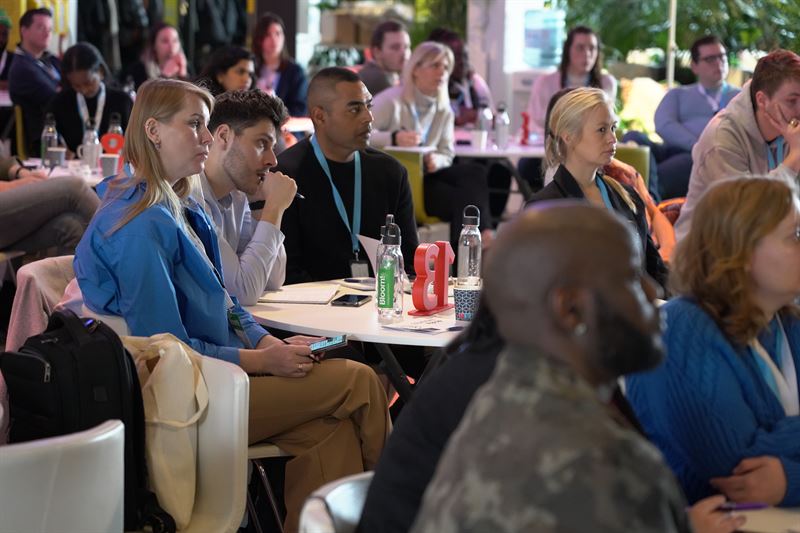 At the birthplace of IKEA, in Älmhult, Sweden, 104 Bloomers from 24 markets representing 35 nationalities gathered this week to experience the unique IKEA culture and values and continue building their leadership skills together
We recently sat down with 29-year-old Dilara Aybar from Germany to learn more about the programme. She has been with the Bloom programme since it launched in 2021.
How did you get involved in Bloom?
I was working as a team assistant in the kitchen department at an IKEA store in Duisburg, a city of about 500,000 people in western Germany. That was a challenging time because it was right in the middle of the Covid pandemic. I learned a lot about change and team spirit in that position. We also were given a kitchen pilot, where we had the privilege to implement a brand-new department solution and change the way we sell kitchens. It was a very exciting time.
It was after that that I began to think about my next steps, when I heard about the Bloom programme. I thought it would be a great opportunity to apply. I was accepted after several rounds of interviews.
So, what happens after you're accepted?
I did my first year as a team leader in the self-serve area of the Burgwedel store, which is outside of Hanover. I was given the opportunity to take ownership of that business in the store and the team that came with it. That was a great experience allowing me to learn about the foundation of an IKEA store, where you have to work with colleagues from a number of the other departments.
I've also had the exciting opportunity to move to another store in Magdeburg, where I became a deputy head of the sales department. It's been a big challenge because for the first time I'm leading leaders. I manage a team of very ambitious people and what they need varies every day.
What have you learned so far?
I've been learning so much as a leader myself: you must fine tune your leadership and that a good leader doesn't have to have all the knowledge.
I also recognize the importance of giving people attention and care, and how important it is to set the right goals and give direction.
What more have you learned about leadership?
Learning about leadership I think is a lot about learning about your personality. When you grow and learn as a leader you start to reflect on yourself more in your daily life. It has been helping me a lot with realizing what type of leadership I'm pursuing. Another part is learning about people, how to approach them in a way to encourage them out of their comfort zone when it's needed. It's about figuring out what each person needs at that moment. Do they need to be pushed, or cared for, and what does the business need at this time? I'm still learning, but that's the biggest part.
What's the next step?
There's a bit of a time pressure to learn as quickly as possible because you're supposed to be a deputy head for one year.  However, you also have to pace yourself. The goal is to be ready to be a market manager, to lead a store, by the end of 2023. And the exciting part is that we don't know which store.
Would you do it again?
Absolutely. If you feel like you want to grow and take up a challenge. There are so many things that you learn if you have the right mindset for it. There's no going wrong with this.
Dilara Aybar
Hobbies: Thrift shopping, weightlifting
Favorite food: Sushi
Favorite music: Old school R&B/Rap like Aaliyah& Run-DMC
One place you want to travel: Machu Picchu
Most used IKEA product: SMULA and my beloved IKEA Kitchen
At IKEA since: 2019
Media enquiries
---
For further information, journalists and media professionals can contact us at press.office@ingka.com or by calling +46 70 993 6376.