Ingka Group is determined to help a billion people live better lives at home, within the limits of the planet by 2030. One of many initiatives to make this happen is called Co-Create Hubs, which is a space where customers, co-workers, partners, and new startups can come together to interact, experience and co-create products and services for a people and planet positive tomorrow. 
The first Co-Create Hub has opened in the recently opened IKEA Home of Tomorrow in Szczecin, Poland, a place where everyone can experience the IKEA vision of the near future.
"A co-create hub is really a community engagement space where we invite the many to co-create better living futures with IKEA. We want to engage with the many in meaningful ways that inspire and enable them to make habitual change in the service of a better future for people and the planet," says Kasper Risbjerg, Innovation Leader, Group Strategy, Development & Innovation, Ingka Group.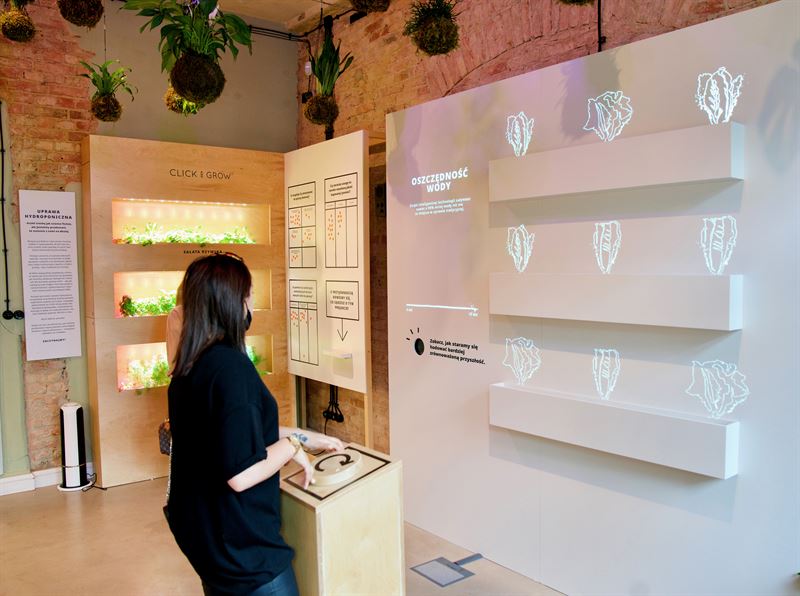 Home of Tomorrow was developed in a sustainable way with ecological finishing materials used throughout. The walls were painted with breathable paints, and for the interior design, the focus had been on solid wood, plywood free of toxic formaldehyde, glass, or recycled plastic. The place is full of various plants and a visual showroom of what could be.
The Co-Create Hub installed here is the first example of how to engage in conversations with the many beyond home furnishing, excite them about how their sustainable choices and contribution can have significant impact and make them interested in shaping the direction of products or services not yet released by IKEA.
The core theme for the Co-Create Hubs in Home of Tomorrow is urban farming and indoor gardening, but other co-create experiences are being worked on as well, designed to be modules that are easily set up by the stores. Some of the themes currently explored include water scarcity, circularity, clean energy, future of food and more.
"We believe human needs are the starting point for every innovation, making co-creation with people essential to innovate. To tackle the big problems facing the many today, no one company or individual can solve it alone, hence we believe we need to co-create to do so. Meeting our customers and people from local communities in new, playful and interactive ways gives us valuable learnings about what is important for them to make their everyday life at home more sustainable. Co-Create Hubs will also inform how our retail stores can facilitate co-creation and is a good example of how we can impact customers' perception of IKEA, from functional to more emotional, which enables us to better co-create and explore new opportunities for the future," says Małgorzata Bochenek, Business Development & Transformation Manager, IKEA Retail Poland.
Media enquiries
---
For further information, journalists and media professionals can contact us at press.office@ingka.com or by calling +46 70 993 6376