Ingka Group, the largest IKEA retailer, today launches its new AI-driven digital design experience, IKEA Kreativ. The intuitive new experience offers customers the first lifelike, fully integrated way to design and visualize their own living spaces, from computers and smartphones. 
IKEA Kreativ combines decades of IKEA life at home expertise with the latest developments in spatial computing, machine learning and 3D mixed reality technologies. IKEA Kreativ's core technology was developed by Silicon Valley AI specialists, Geomagical Labs, which Ingka Group acquired in April 2020. The easy-to-use experience aims to inspire customers, unlock their creativity, and help them visualize how furnishings will look, fit, and function in their in their homes, through lifelike interactive design.
Supporting life at home is more important than ever. The latest IKEA Life at Home report found that over 60% of customers had to significantly change their home function since the pandemic, and 84% of customers say it is important to have control over the space and place where they live.1 There has also been a rise in IKEA customers doing more of their home shopping in digital channels and they want to enhance this experience with some of the magic they can find in IKEA stores. IKEA Kreativ gives customers the confidence, ability, and control to create functionally designed and attractive spaces in a simple, time-saving experience.
With IKEA Kreativ, customers can:
Explore IKEA products in inspirational 3D showrooms – Customers can explore IKEA products, combinations, and design ideas in a gallery of more than 50 inspirational 3D showrooms, available from the new Design page of IKEA.com. Customers can easily browse the IKEA catalogue, and try out products in lifelike spatial settings – quickly swapping, moving, rotating, stacking, and hanging IKEA products to select the perfect product options.
Design their own spaces – Through the IKEA Kreativ Scene Scanner™, built into the IKEA App, customers can easily create editable and lifelike 3D replicas of their own spaces, which they can edit and design with IKEA products. Customers can take a series of photographs of their room, which are automatically processed and assembled into a wide-angle, interactive replica of the space, with accurate dimensions and perspective. Customers can 'erase' existing furniture from the scene, position new IKEA furnishings, rapidly swap through alternatives, and fully design the room.
Imagine a better life at home, from anywhere – Once customers have designed their perfect room, they can add products to their cart, save their design ideas to their IKEA account for later, and even share design ideas with family and friends for inspiration and design advice. And because virtual rooms are stored in the cloud, they can be designed from anywhere. Customers can even bring their room to the store using the IKEA mobile app, to give customers more confidence with their in-store shopping.
Parag Parekh, co acting Chief Digital Officer at Ingka Group, said: "Ingka Group is passionate about helping people create a better life at home, and we continuously look to add value to our customers' experience, both on and offline. Through the innovative, intuitive technology of Geomagical Labs and simple digital experience, we believe IKEA Kreativ will break down barriers to shopping for home furnishing, empowering people to go from inspiration to reality and design their perfect home."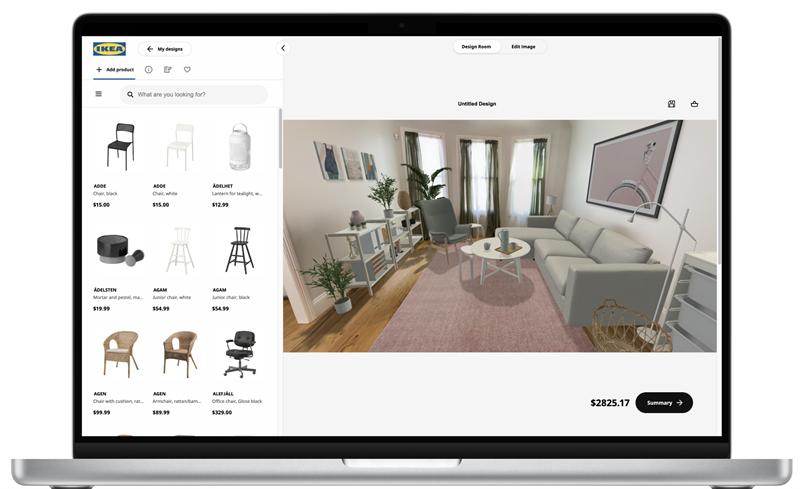 IKEA Kreativ uses state-of-the-art AI and computer vision technologies, similar to those used by self-driving cars, to make sense of customers' home spaces. These include AI neural networks which have been specially trained to recognize the objects and geometry of indoor spaces, stereo vision algorithms to see in 3D, computational photography algorithms to provide expansive photography, and mixed reality 3D graphics for realism. AI algorithms also allow IKEA Kreativ to erase some or all existing furniture from the scene, to let customers reimagine their spaces.
Brian Totty, CEO and Founder of Geomagical Labs, said: "We're working hard to help people imagine a better life at home, by fusing real technology advancements with fun and magical user experiences. We are super excited to share our first products and look forward to making these capabilities even more helpful and awesome in the years to come."
First rolling out in the United States for iOS and laptop users, IKEA Kreativ will be available for Android users later this summer, and for additional countries in FY23. US customers can access the complete room design experience for free by downloading the IKEA app from the Apple App Store, or by visiting IKEA.com.
Media enquiries
---
For further information, journalists and media professionals can contact us at press.office@ingka.com or by calling +46 70 993 6376.