With a curious mind, IKEA carry out research into Life at Home
20 households across five countries detail their experiences
Research finds greater need for comfort and security
Home is the most important place on earth for IKEA and this year's Life at Home study dives further into this world by releasing live research as people continue to adapt to the Covid-19 pandemic.
The first Pulse Report – titled In The Messy Middle – highlights how there hasn't been the return to normal life that many people hoped for. The initial relief has been replaced with a realisation: that we'll be living half in, half out of lockdown for a long time to come. IKEA is calling this strange time 'the messy middle'.
A second Pulse Report will follow in July and like the first edition will be based on personal experiences of a cross section of 20 households across five countries – Australia, China, Italy, Sweden and the U.S..
In 2019, findings showed that privacy at home is considered a right by 85% of people globally. Now in its seventh year, this year's Life at Home report will analyse detailed data from all Ingka Group countries and will deep dive into the future of Life at Home. It will be published in September 2020.
Jenny Lee, Life at Home Communication Leader, Ingka Group, said: "The research and live insight highlights the strange and uncertain times we're living in. Daily life has changed in an instant for many people, and many of them have been confined to their homes in challenging times.
"There are ups and downs and it has impacted people in different ways. We've concluded that this period is the messy middle, somewhere between the life we knew and the future life that is waiting for us.
"There have been difficult days but there is hope too. What this virus has provided us with is an opportunity for introspection as we reflect and re-evaluate what is most important to us.
"It has never been truer how we are all in this together, as a community we have come together to support one another, to find ways to feel safe, happy and hopeful. We are making more of this messy middle, finding unique ways to thrive in this uncertain time."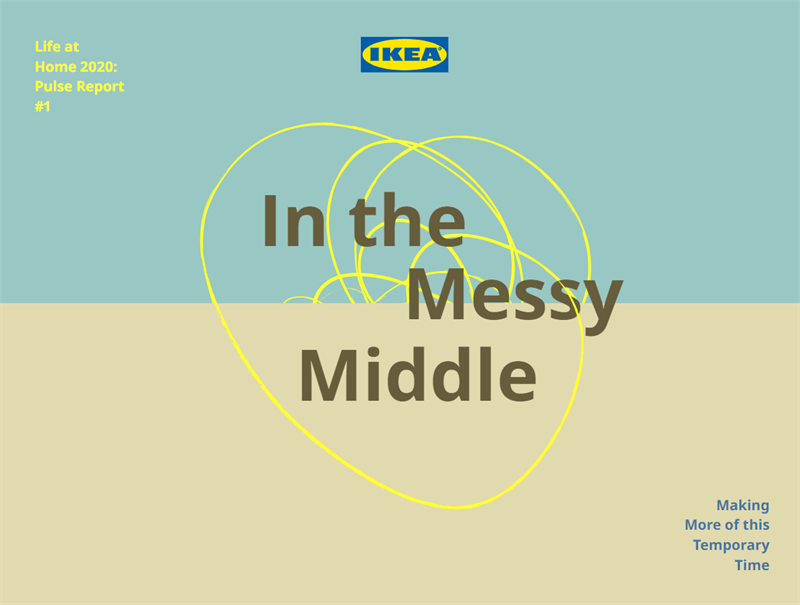 Experts in life at home 
Life at Home has always fascinated IKEA and as a leader in this area, adapting and responding to meet the needs of customers is more important than ever. This is so IKEA can help make a better everyday life for the many people, its simple vision that is needed more than ever today.
As people's experiences changed, largely due to spending more time within their own walls, the meaning of home changes for IKEA too. By listening to households and sharing experiences, IKEA can help others and make everyday life that little bit better.
Findings in brief 
Homes: the epicentre of our lives. The home is no longer the backdrop to people's lives, but the centre stage in which every part of life is playing out.
Living differently – the biggest changes and their impact. Homes have been multifunctional. Spaces are shared with others. Days are monotonous. Virtual communication and social distancing have been the biggest changes. There have been some surprising positives but also challenges, leaving people feeling stressed and anxious.
The importance of comfort and security. Instead of a need for privacy, during lockdown people have highlighted the importance of comfort and security. For some, home has been a hero, but for others it has been a more difficult time.
The new temporary. As countries move into new phases of lockdown, few restrictions and more uncertainty has seen a half in half out form of lockdown, shaping a new temporary way of living. In this temporary – economic impact is felt at the individual level, home adjustments, new family behaviours and long term planning is considered and acted upon.
Fortnightly blog posts detail raw insights gained from the households, Pulse Report #1: In the Messy Middle in the latest edition.
Media enquiries
---
For further information, journalists and media professionals can contact us at press.office@ingka.com or by calling +46 70 993 6376