The Covid-19 pandemic and lockdown has seen increased time at home for the many people. 
Homes have become multi-functional locations with living and working space combined with temporary classrooms and gyms. These shared spaces have been attempting to co-exist under one roof.
Desire has grown to adapt and improve homes. From creating a comfortable home office environment, to organising home storage or updating tired kitchen utensils, the many different needs of the home has seen demand for solutions increase.
With such dramatic change to daily lives occurring at a time when many stores were closed for weeks at a time; IKEA has strived to safely find solutions to customers' needs in this difficult period.
The opportunity to accelerate digital change to make online shopping easier and accessible for the many became a possibility.
Quickly adapting to the needs of the business was key. Further improvement is needed to ensure that IKEA stays on course to become even more affordable, convenient and sustainable and meets customer expectations.
Once bustling stores were swiftly turned into customer fulfilment units. At the end of May 2020, IKEA Retail (Ingka Group) should have been at a low of losing more than 80% of business. Instead only 10% of the business has been lost and this was with U.S., UK and Russia yet to re-open stores.

Remaining accessible

IKEA countries have led by example in creating solutions. IKEA stores in Denmark were closed for nearly six weeks, but an agile digital transformation occurred within days to respond to customers' needs. This saw a 350% increase in online sales during March and April.

Following the introduction of lockdown on 14 March, IKEA Katowice, Poland implemented contactless Drive Thru to answer customers' needs and it proved popular.
Since the store re-opened on 4 May, the option has continued with 150 slots daily. That day saw a huge customer response with 64,000 EUR in Click and Collect sales.
Elsewhere in Poland, quick-thinking at IKEA Krakow gave customers the opportunity to enjoy a local specialty thanks to a newly created Grill Drive-Thru.
With safety coming first, customers can order and collect their food from the comfort of their cars. An intercom system is powered by solar panels and contactless payment is taken, before customers soon have their food to take away and enjoy.
Open for business in Japan

Covid-19 resulted in temporary store closures or restrictions worldwide but in Japan, under strict health and safety restrictions, a new studio was able to open.

The IKEA for Business Planning Studio opened in Shibuya, Japan in February, offering a specialised meeting point for business clients in the heart of Tokyo's trendiest district.

Co-workers are specially trained to understand the needs of small businesses and they were able to safely offer their expertise to customers.

Taketsugu Kikuchi, Business Planning Studio Manager, said: "At IKEA we were able to keep running our business. This is one thing I'm feeling happy about. At the same time, even in that situation some customers wanted to change their office or wanted a small desk to work from home. They kept visiting us, so I believe we were able to contribute greatly to our customers by providing our solutions for a better work environment.
"Before Coronavirus, many customers wanted to look into their offices to change their work environment. From now on, not only for offices, actually we are targeting B2B here, but the needs of B2C are also expected to increase. When that happens, affordability will become more important."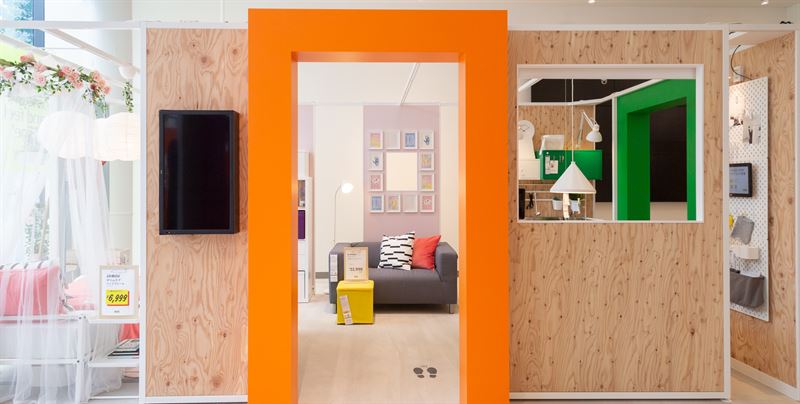 IKEA Retail Japan opened a new conveniently located shop at Harajuku (see photo above) on 8 June. Just one of the different types of store formats, making IKEA more accessible to the many people.

The store has its own app – IKEA Harajuku App – which utilises augmented reality and gives customers access to a digital layer on top of their in-store experience. As well as offering an endless variety of styles, the app turns the store into an interactive playground with inspirational contents.

Expansion plans have continued in Europe too with IKEA Retail Finland opening their first ever Planning Studio in Jyväskylä on 11 June.
Media enquiries
---
For further information, journalists and media professionals can contact us at press.office@ingka.com or by calling +46 70 993 6376