For IKEA, equality is a fundamental human right. The brand embraces diversity and wants to create a workplace where everyone has equal opportunities, feels included and thrives, regardless of their sexual orientation or gender identity. 
As a part of the commitment to creating an inclusive work environment, Ingka Group has launched a campaign called #BeSomeonesHome, to celebrate the International Day Against Homophobia, Transphobia and Biphobia (IDAHOT) on May 17. The campaign will be activated in 25 countries, where Ingka Group operates.
"In challenging times like the one we are living right now, breaking the silence and promoting equality and human rights is crucial. Everyone has the right to be treated fairly and get equal opportunities, whatever their sexual orientation or gender identity. We work with this every day at IKEA. On 17 May we underline our commitment to stand up against discrimination of LGBT+ people," says Antonio Cavalli, Equality, Diversity & Inclusion Leader, Ingka Group.
With almost a third of the world's population now at home due to the Coronavirus pandemic, the way of life and work has dramatically changed. During these uncertain times, home is more important than ever. For several people, home has become their whole world – a place that provides shelter, a place where one can feel safe, and free to be themselves. But for many in the LGBT+ community, finding a place where they feel welcomed and at home is not always easy.
With the #BeSomeonesHome campaign, Ingka Group wants to invite co-workers and customers to make the LGBT+ community feel at home and welcomed by embodying a shelter for all those who are discriminated against and struggle to find safety.
"In the COVID-19 situation we are in, LGBT+ people risk being more stigmatised, discriminated and isolated than ever before. As a result, they tend to hide their sexual orientation or gender identity to their families, social circles, and at work. Our IDAHOT campaign is about inviting everyone to become a shelter for all those people who suffer discrimination and struggle to find comfort in their families and societies at large," says Cavalli.
As a purpose-led company, Ingka Group supports the LGBT+ co-workers' right to be themselves; provide them with equal opportunities to develop and to contribute to the company's business. The following are just a few of the many initiatives that help make Ingka Group an LGBT+ inclusive workplace:
•Since October 2015, Ingka Group been a member in Workplace Pride, an organisation focused on LGBT+ inclusion in the workplace
•In October 2017, Ingka Group joined Stonewall, a non-profit organisation dedicated to improving the lives of LGBT+ people in workplaces all over the world
•In 2017, Ingka Group launched a global LGBT+ inclusion plan that aims at creating a consistent way of working with LGBT+ inclusion across all Ingka Group organisations
•In 2017, Ingka Group co-created and endorsed the UN Standards of Conduct on tackling discrimination against LGBT+ people. This is one example of how Ingka Group wants to be part of creating a positive change in society.
•Since 2017, Ingka Group has been celebrating IDAHOT to stand up for the rights of LGBT+ people across the world
•To reinforce Equality, Diversity & Inclusion in the countries Ingka Group operates in, the company have been collaborating with the European Commission. In 2018, all 18 Ingka Group markets in the European Union signed their national Diversity Charter, committing to promote diversity and equal opportunities in the workplace and in society
•As a part of the 2020 #BeSomeonesHome campaign, Ingka Group will support local LGBT+ organisations across a few countries by indirectly driving sales of the STORSTOMMA rainbow bag (pic below).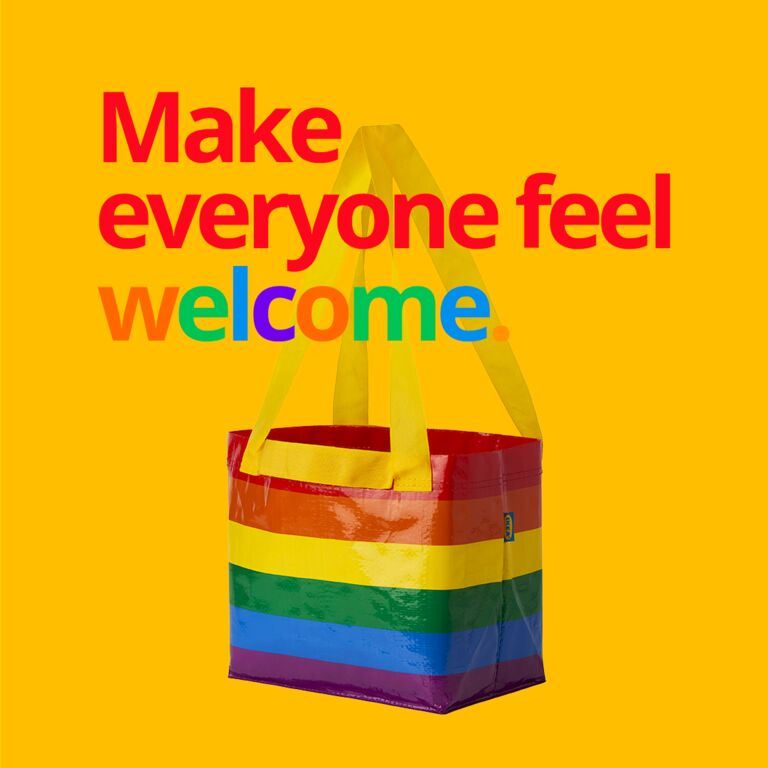 Media enquiries
---
For further information, journalists and media professionals can contact us at press.office@ingka.com or by calling +46 70 993 6376