FEBRUARY 19, BERLIN: Ulrika Biesèrt, Global People & Culture Manager, Ingka Group (IKEA), has shared the company's progress and discussed initial learnings in closing the gender pay gap globally during an expert meeting of the Equal Pay International Coalition (EPIC), hosted by the Government of Germany. She announced the company is on track to meet its commitment to gender equal pay.
"It's only fair that everyone receives equal pay for work of equal value regardless of gender. We believe this should be the case in all our 30 countries, no exceptions made. We choose quality over speed to achieve gender equal pay, yet we set ambitious goals for ourselves. To catalyse our efforts, in September 2018 we joined EPIC and, by the end of the same year, we rolled out a framework for gender equal pay in all countries where Ingka Group operates.
Our goal is to achieve gender equal pay for work of equal value by the end of 2021. We have identified and performed concrete actions to address gender pay gap over the last year, including addressing processes such as recruitment, co-worker development, and succession. We are on course to success," said Biesèrt (pictured speaking into the microphone on the right in the below photo).
The gender pay gap refers to the difference between what women and men are paid on average, and the difference in pay between women and men doing identical work. Due to historic inequalities, the gender pay gap has been documented across all sectors in all countries of the world. The Global Gender Gap report by the World Economic Forum this year highlights that in terms of economic participation, the gender gap will take 257 years to close.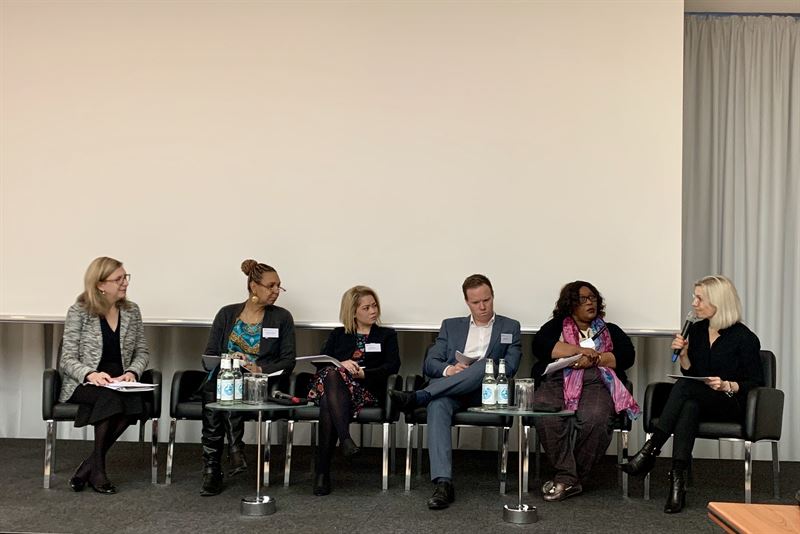 Closing the gender gap in pay is not purely a salary question, which is why Ingka Group has developed an approach to gender equal pay that is designed to be holistic and sustainable.
"Besides quantifying pay gaps, we focus on analysing the contributing factors for the gaps and performing concrete actions where necessary. For us it is clear that securing gender equal pay is not a one-time fix. Our approach is designed to both remove current pay gaps and prevent them from reoccurring," explained Sari Brody, Global Equality Manager at Ingka Group.
To ensure lasting change, the gender equal pay commitments of Ingka Group are embedded into its overall Equality Plan. The Plan follows a systematic approach all the way from establishing the mind-set for gender equality, to creating an inclusive work environment with a supportive infrastructure and inclusive behaviours.
Gender balance is a crucial contributing factor to closing the gender pay gap. Ingka Group is committed to reaching 50/50 gender balance throughout the entire organisation by 2022, including all boards, committees, countries, functions and levels. Currently, 49.7 percent of its managers are women and 54.6 percent of the co-workers are women.
EPIC is a multistakeholder coalition of governments, employers, workers, and their organisations, the private sector, international civil society, and academia, which aims to achieve equal pay for men and women everywhere. EPIC is led by the International Labour Organisation, the UN Women, and the Organisation for Economic Cooperation and Development. EPIC facilitates regular exchanges between its members to understand the impact of implementing measures to reduce pay inequalities, and to share experiences across countries and regions.
For further information on EPIC, please visit: https://www.equalpayinternationalcoalition.org/
Media enquiries
---
For further information, please contact us at press.office@ingka.com or by calling +46 70 993 6376