Ingka Group is continuing to explore, test and develop new capabilities that will contribute to its journey to become a circular business by 2030. In Malmö, Sweden, a new Local Recovery Hub has opened to further explore new methods and ways of working that will prolong the life of IKEA furniture. The new hub will aim to build insights and learnings on how to source, clean, repair and sell used furniture that has been passed on and offer them to new customers at even more affordable price.
"Transforming IKEA into a circular business is one of our biggest ambitions and challenges for the future. It is impacting our business in all aspects: how and where we meet our customers, what products and services we develop, how we source materials, and develop the IKEA supply chain. We want to enable our customers to acquire, care for, and pass on products in circular ways," says Pia Huusfelt, Circular Business Manager at Ingka Group.
"We are continuing to innovate and test new capabilities to develop sourcing and selling of second-hand IKEA furniture and explore how that can be integrated into the IKEA business and markets. So, the Local Recovery Hub is an important trial, where we collect, store, clean, repair, transport used IKEA furniture to different sale channels i.e. the IKEA Malmö store and online. This is just a test that is planned to close in a year and no decisions have been made if and how the Local Recovery Hub will be scaled up or replicated in other markets", she continues.
​​​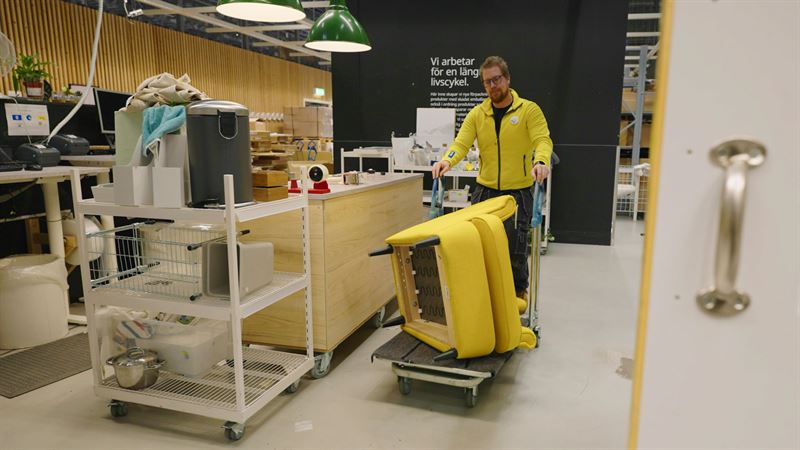 IKEA is taking action to become climate positive by 2030*, reducing more greenhouse gas emissions than the IKEA value chain emits, while growing the business. In addition to a range of actions across the business to reduce emissions, as well as investments into renewable energy, IKEA has an opportunity to inspire and enable the billions of people it reaches to take climate action in their own lives.
Ingka Group is already testing several services and solutions for a more sustainable life at home, including buy back and take back services, in-store circular hubs, and online platforms for second-hand products. Some of the insights and learnings that are being used in the Local Recovery Hub come from the first IKEA second-hand pop-up shop in ReTuna.
In November the company launched its second Green Friday campaign to encourage people to save more than money by asking customers to bring back their pre-loved IKEA products. In addition to taking back furniture, customers were offered the chance to choose among second-hand items when shopping at IKEA online as well as in store. Through our Buy Back program, customers returned 155,000 pieces of old IKEA furniture to be resold or recycled.
The Local Recovery Hub
At the Local Recovery Hub in Malmö, teams will be spending a full year learning, testing, and improving the processes. The hub which is located close to the city's main IKEA store, won't be public facing and won't be IKEA branded.
The used furniture that is being recovered in the Local Recovery Hub comes from different IKEA offices in southern Sweden. During the test period, IKEA Retail in Sweden will also explore other sourcing opportunities such as furniture donated at recycling centres, and sourcing directly from customers.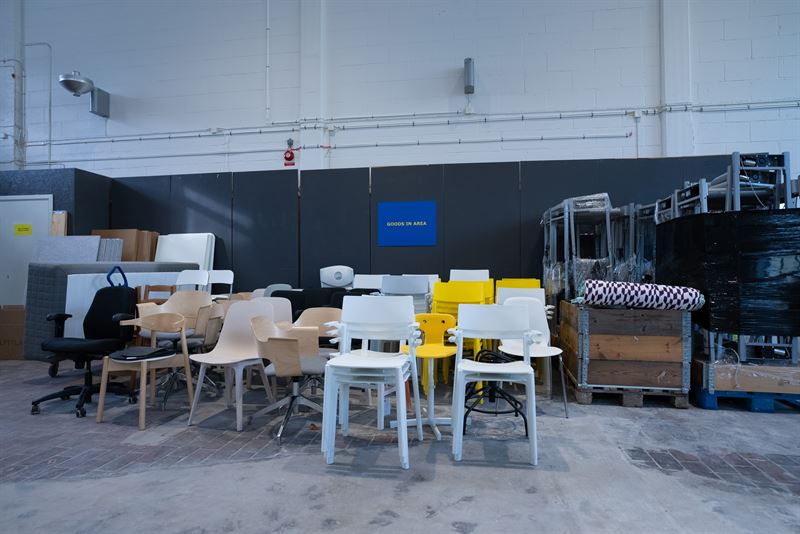 It will be making a huge difference to local furniture and local people, not only by sourcing used furniture locally but also selling recovered products in the circular hub of IKEA Malmö store.
"Fifty percent of products ending up in waste recycling could be reused by simply carrying out minor recovery activities. Also, depending on product category, the climate footprint of a pre-used item can be 50%-80% lower than buying a new product. That means developing a second-hand business that works can play a major role in becoming a more sustainable business and, for consumers, living a much more sustainable lifestyle", says Jonas Carlehed, Sustainability Manager for IKEA Retail Sweden.
Key to finding the best ways to repair and restore furniture is that items are safe and meet the quality standards. IKEA is investing time into the testing and discovery process so that all customers leave stores happy with their purchases – and this means the returns policy on second-hand products is the same as new.
The quality standards of IKEA also dictate whether an item can be given a second life at all. Instead of restoring at all costs, the priority is to ascertain whether an item can be restored and, if it can't, make sure it is recycled according to local legislation.
Other key IKEA climate actions:
Renewable energy: Phasing out fossil fuels and striving towards 100% renewable energy (electricity, heating, cooling, and fuels) across the IKEA value chain by 2030. By 2025 Ingka Group will aim to secure 100% renewable electricity consumption across its own operations and recently announced a 4 BEUR investment into renewable energy that will support reducing the company's footprint and a broader transition to a net-zero society.
Low carbon transport and logistics: By 2030, IKEA aims to reduce its absolute greenhouse gas emissions from product transport by 15% compared to 2017. Ingka Group will aim for 100% zero-emission home deliveries by 2025 across its 32 countries.
Sustainable sourcing and circular design: IKEA aims to become a circular business, using only renewable and recycled materials with lower climate footprint and designing products for circularity by 2030.
Enabling customers to live more healthy and sustainable lives: By 2030, IKEA aims to inspire and enable more than 1 billion people to live better lives within the boundaries of the planet.
*IKEA climate positive means to reduce more greenhouse gas (GHG) emissions than the IKEA value chain emits by 2030, while growing the IKEA business. IKEA is committed to the Paris Agreement and to contribute to limiting the global temperature rise to 1.5°C above pre-industrial levels. This includes a commitment to halve the absolute net GHG emissions from the total IKEA value chain by 2030. We will achieve this by drastically reducing GHG emissions through science-based targets and by removing carbon from the atmosphere through natural processes and storing it in land, plants and products through better forest and agriculture management within the IKEA value chain. We will contribute to further greenhouse emission reductions in society by going beyond IKEA, such as enabling customers to generate renewable energy at home.
Media enquiries
---
For further information, journalists and media professionals can contact us at press.office@ingka.com or by calling +46 70 993 6376.