Updated with Output Report: Ideas, Insights and Actions - attached 
As part of its participation and engagement at COP26, the United Nations Climate Change Conference,Ingka Group hosted its third edition of One Home One Planet, at the New York Times Climate Hub in Glasgow.
First held in 2019 at IKEA Karst store in Germany, One Home One Planet is an action-orientated sustainability event, that brings together purpose-driven, ideas-led doers, thinkers and influencers from across different sectors. Together with IKEA, they work to break down barriers to solving key social and environmental challenges facing the world – challenges that, more than ever, need urgent attention. The event's goal is to harness the power of businesses to accelerate a just transition to a net-zero economy where sustainable living is affordable and accessible for all.
By inviting key stakeholders, purpose driven doers and influencers from across different fields to OHOP, the aim of the event is to inspire action and spark change in the areas of climate change, inequality, and resource scarcity, so that collectively, we can build back better and create the future we all want to be part of.
"It's really wonderful that One Home One Planet brought together the civil society and the private sector. I think too often we alienate the private sector thinking that just because some are big polluters, they can't be brought into the dialogue. It's so important we have these meaningful dialogues at events like this and view climate change as our main enemy, not each other," says Kehkashan Basu, Environmental & Human Rights Activist and Founder of Green Hope Foundation who was a speaker at OHOP.
Besides several Ingka Group leaders, other participants at this year's OHOP event in Glasgow included: Sanda Ojiambo, Executive Director, UN Global Compact; Kevin Mtai, Climate Activist; Alexandria Villaseñor, Climate Justice Activist and Founder and Executive Director, EarthUprising.org; Andy Karsner, Director, Conservation International; AY Young, UN World Young Leader, Singer and Founder, Battery Tour; Van Jones, CNN host and author.
"We're delighted to have again hosted One Home One Planet this year, as part of our engagement at COP26. From businesses, activists, governments to people at home, we all have a part to play in protecting the home we all share. OHOP is an opportunity to bring people together with different perspectives, to inspire, collaborate and encourage us to agree and take climate actions. Only working together can we assemble a net-zero world that is better for all, with green jobs and more sustainable growth," says Juvencio Maeztu, Chief Financial Officer & Deputy CEO of Ingka Group and speaker at OHOP 2021.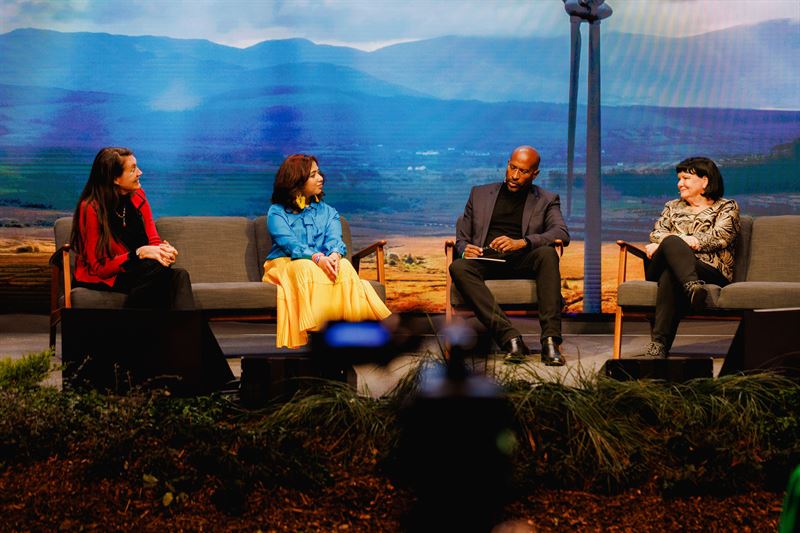 A conversation on how to accelerate action and how to ensure a just transition, between left to right, Geraldine Matchett, Kehkashan Basu and Sharan Burrow. Centre, led by CNN's Van Jones
OHOP 2021 was spread over two sessions, a Town Hall session and CoLabs. The Town Hall focused on bringing thought leaders in courageous conversations challenging the status quo of critical topics such as scaling ambitious ESG common metrics and what "climate positive" really means as well as how to ensure a just transition and climate justice.
The CoLabs address three major challenges:
Making circular solutions scalable: Focusing on the way we live impacts both our wellbeing and the planet, yet research shows that while many want to live more sustainable, they don't know how. To meet the climate targets, sustainability must be accessible to the many, and not just the few. We need to explore new ways to make circularity – the elimination of waste and continual use of resources – more convenient and relevant for the many people.
Making healthy and sustainable lives the new norm: IKEA believes that home is the most important place in the world. Life at home was unexpectedly disrupted by the COVID-19 pandemic, affecting every aspect of people's life at home. The gap between people's aspirations to have a more sustainable and healthier life at home and their reality, presents a vast missed opportunity for businesses. We need to address imbalances in access to more sustainable and healthier solutions for life at home.
Food for People and Planet: Food agriculture and food production make up at least one third of all greenhouse gases emitted on the planet. With meat production being one of the major contributors for these emissions, research has found that even small reductions in people's meat consumption can significantly reduce the carbon footprint of their diets.  At the same time, it has been proved that diets that are good for human health are also more environmentally sustainable. Transformation to a healthy and sustainable food system by 2050 will require substantial behavioral shifts – not only in what and how foods are produced, but in all of us making more informed choices.
This year OHOP was done in collaboration with the B-Team, the global nonprofit initiative of business leaders working together to advocate for business practices that are more centered on humanity and the climate.
Halla Tómasdóttir, CEO of The B Team, states: "We need to redefine the culture of climate accountability and drive a better way of doing business for people and the planet. Events like One Home One Planet encourage collaboration among diverse people, which is critical to meeting the challenges of this decisive decade. Meaningful change starts at home, and lasting change is achieved together."
IKEA is taking action to become climate positive by 2030*, reducing more greenhouse gas emissions than the IKEA value chain emits, while growing the business. IKEA also has an opportunity to inspire and enable the billions of people it reaches to take climate action in their own lives. It is committed to the Paris Agreement and to contribute to limiting the global temperature rise to 1.5°C above pre-industrial levels and to the Women's Empowerment Principles and the UN Sustainable Development Goals.
————————-
*IKEA climate positive means to reduce more greenhouse gas (GHG) emissions than the IKEA value chain emits by 2030, while growing the IKEA business. IKEA is committed to the Paris Agreement and to contribute to limiting the global temperature rise to 1.5°C above pre-industrial levels. This includes a commitment to halve the absolute net GHG emissions from the total IKEA value chain by 2030. We will achieve this by drastically reducing GHG emissions through science-based targets and by removing carbon from the atmosphere through natural processes and storing it in land, plants and products through better forest and agriculture management within the IKEA value chain. We will contribute to further greenhouse emission reductions in society by going beyond IKEA, such as enabling customers to generate renewable energy at home.
Media enquiries
---
For further information, journalists and media professionals can contact us at press.office@ingka.com or by calling +46 70 993 6376