Krister Mattsson, Managing Director of Ingka Investments shares his views on why renewable energy investments contribute to tackling climate change and constitute a growth sector that makes financial sense with good returns on investments.   
With over 75 years of entrepreneurship and performance, Ingka Group has continued to build a strong financial position. The role and purpose of Ingka Investments is to safeguard Ingka Group's long-term financial strength and business development by making purposeful investments that secure our long-term financial strength, support our growth, business transformation and sustainability commitments.
For investments it is even clearer that financial performance and sustainability go hand in hand, and for IKEA this is how we will grow, stay relevant and remain profitable, for generations to come.

Across our 6 portfolio areas; Renewable Energy, Business Development Investments, Venture Growth Capital, Forestland, Real Estate and Financial Market Investments, we work closely with all areas of Ingka Group to align our investments with our business needs and sustainability goals, and we want to make a positive difference in the societies where we invest.
One area where this all comes together is our renewable energy investments portfolio, where we first saw the opportunity in 2009 and to date have invested over EUR 2.5 billion which has enabled us to generate more renewable energy than we consume across our operations.
Why Ingka Investments focus on renewable energy?
The renewable energy portfolio represents why it is good business to be a good business as we invest in renewable energy to create attractive returns, support the Ingka Group sustainability goals and contribute to the overall IKEA commitment to become climate positive by 2030.
In April we took some new bold steps to reach our 2030 goal to become a climate positive business. We made our first renewable energy investment in Russia by taking a 49% stake in 8 solar PV parks and made a new commitment to accelerate investments in the transition to a renewable energy future with additional EUR 4 billion. These will support reducing the company's climate footprint and a broader transition to a net-zero society.
Additional revenue stream of EUR 280 million
Today Ingka Investments are proud owners and managers of 547 wind turbines and 715,000 offsite solar panels in 15 countries. We want our energy production to grow even more, so that we can increase the share of renewable electricity that we consume ourselves across our retail operations and are committed to generating as much renewable energy as the energy we consume in our operations globally by 2025. For this we need to expand to new countries, some of which are in early stages of the transition from fossil fuels to renewable energy.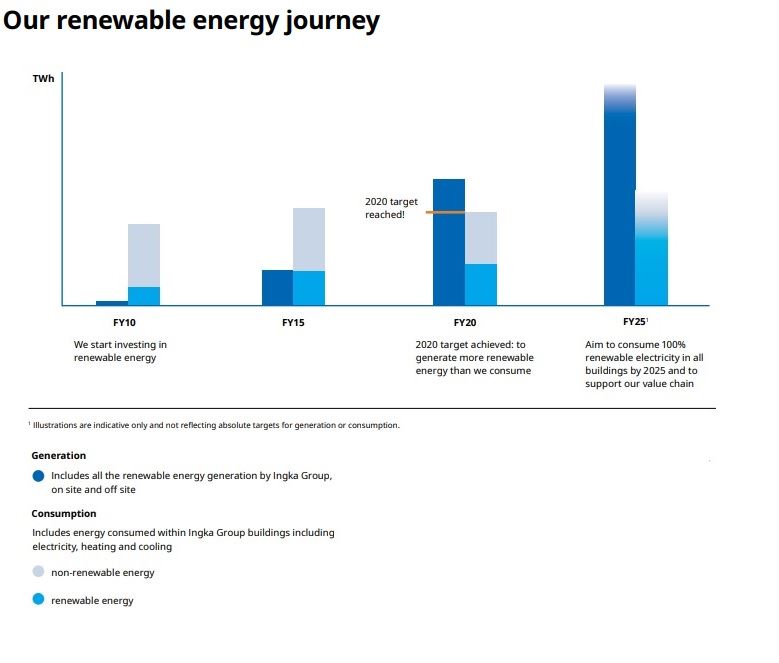 Whenever its profitable and based on the local regulations, we directly consume onsite generated renewable electricity and sell to the grid surplus of generated electricity. We continue to explore ways to sell our excess renewable energy, primarily to suppliers in the IKEA value chain. The sale of excess energy has increasingly become an additional revenue stream for Ingka Group with estimated revenue this financial year* of EUR 280 million.
Ingka Investments expanding renewable energy portfolio
Over the next 5-10 years we aim to increase our portfolio to EUR 6.5 billion and continue to support delivering on our science-based targets. Ingka Investments continues to look for new partners to join our journey and we will expand our renewable energy portfolio into more countries.
Our investment team will be targeting countries like Australia, China, Japan, Russia, South Korea and India. Although renewable energy production is growing significantly, these countries remain the most challenging for businesses to enter. This was outlined in December by new research from RE100**, the global renewable energy initiative. Their research concluded that renewables are now the cheapest sources of energy in most countries, but that companies are being held back by limited availability, regulatory complexities and the resulting higher costs in some markets. They also concluded that governments have more to do to take advantage of business demand to go green.
We believe that long-term financial resilience is closely related to a more sustainable future and as the world enters a crucial decade for the planet, it is our ambition to have zero exposure to fossil fuels. Ingka Investments will focus even more on renewable energy and sustainable investments that will create positive impact for our business, the environment, society and our customers.
Krister Mattsson, Managing Director of Ingka Investments
*The financial year 2021 refers to the period between 1 September 2020 and 31 August 2021
**RE100 is a global initiative bringing together the world's most influential businesses driving the transition to 100% renewable electricity.
Media enquiries
---
For further information, journalists and media professionals can contact us at press.office@ingka.com or by calling +46 70 993 6376