IKEA aims to become climate positive by 2030, by reducing more greenhouse gas emissions than the IKEA value chain emits, while growing the IKEA business. As the biggest retailer in the IKEA franchisee system, Ingka Group has an important part to play by reducing the climate footprint in its operations, customer deliveries, and customer travel, as well as providing sustainable services to their customers, enabling people to live within the planetary boundaries. 
The next nine years are critical to limiting global temperature increases to 1.5°C. With a strong commitment to the Paris Agreement and science-based targets in place, Ingka Group is determined to be part of the solution. Switching to 100 % renewable energy and increasing energy efficiency is a key action in reducing greenhouse gas emissions, which is why Ingka Group, as part of its first People & Planet Positive Strategy in 2012, set a target to generate as much renewable energy as it consumes in its operations by FY20.
To reach the goal, Ingka Group has invested EUR 2.5 billion over the past 11 years through its investment arm, Ingka Investments. The company now owns 547 wind turbines in 14 countries, two solar farms and 935,000 solar panels on the roofs of IKEA stores and warehouses.
"At Ingka Group, we stay committed to our sustainability ambitions and we are proud to say that for the first time we have generated more renewable energy than we consumed in our own operations, landing at 132 % globally, thanks to our investments in solar and wind technology", says Karol Gobczyński, Head of Climate & Energy, Ingka Group.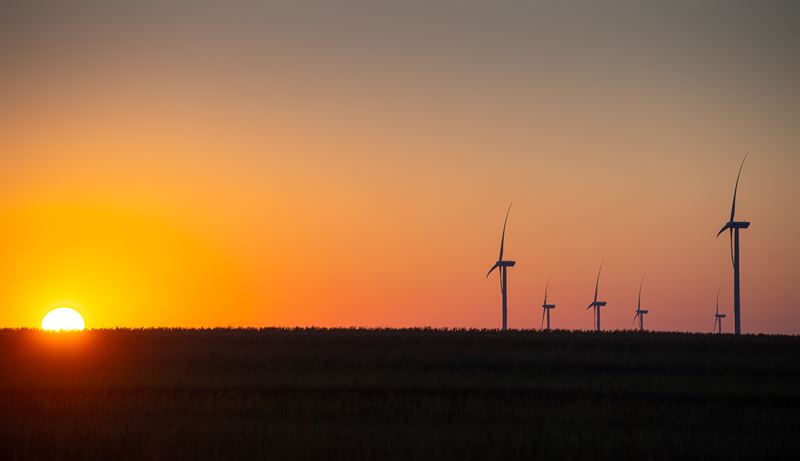 Parts of this energy is used to power IKEA stores, distribution centres and some of the factories producing IKEA products in North America and Europe. Now the ambition is for all Ingka Group buildings to be powered by renewable electricity by 2025 and having 100 % renewable heating and cooling by 2030. Today 66% of the electricity consumption is renewable, and many of Ingka Group's buildings are using ground and air source heat pumps. Ingka Group will continue to invest in renewable energy and efficiency, with a focus on markets where they currently don't own wind or solar farms, with China, Russia and India being a priority.
Renewable energy conservation and efficiency is key and will ultimately reduce the overall need to generate renewable energy. This includes monitoring when lights and equipment are turned off when not in use, as well as building management systems that control usage throughout the day. In Sweden, an artificial intelligence solution has been implemented in some stores to optimize the HVAC (heating, ventilation, air conditioning) system. On average, this has reduced 4.5% electricity and 17.5% heating.
"Our goal is to produce as much electricity as possible on-site. Today we're at 8 %. Many of our stores already consume renewable electricity generated on-site, such as Australia, where the IKEA Adelaide store is being prepared to generate more renewable energy than it consumes and keep the renewable electricity attributes to cover their consumption. Where sufficient renewable electricity cannot be generated on-site, we secure renewable electricity from off-site generation, mainly our own wind farms and solar plants", says Karol Gobczyński.
Together with DNV GL and Becour, Ingka Group is currently piloting tools for hourly matching of renewable electricity generation and consumption, to enable using only renewable electricity each hour. This pilot includes five wind farms in Finland to 14 IKEA stores and warehouses in The Netherlands, including their onsite solar panel installations. The aim is for these tools to create new flows of renewable electricity from all Ingka Group generators to its different operations.
Another pilot takes place in the new IKEA store in Gothenburg, Sweden, will be the most IKEA efficient store in the world when it opens its doors, it, reducing energy consumption to almost half that of the average store. This solution has resulted in an integrated system design with low global warming potential. This is a promising development that enables the company to store energy in the most efficient way yet.
"We're proud of the progress that we've made so far and we're committed to continue to implement actions across our operations. But acting alone won't get us to 100% renewable energy. We must work with others to innovate new solutions and create the market conditions for a society powered by renewable energy. For us, partnerships and collaborations has always been a cornerstone, and this is more important now than ever. In this critical time, we are calling on customers, companies and governments to join us on the journey. Change will come only if we work together, share knowledge and co-create solutions. This I why we are part of initiatives such as RE100, RESource, WBCSD and many others, and are advocating for policies and inclusive regulations that will drive the transformational change needed to meet the Paris Agreement. Together we can make a global switch to renewable energy and realise a 1.5°C world where everyone can thrive", says Karol Gobczyński.
Helen Clarkson, CEO, Climate Group: "My congratulations to Ingka Group for achieving its goal of generating as much renewable energy as the energy it consumes. As a founding member of RE100, Ingka Group are walking the talk and sending a powerful message that renewable electricity makes good business sense. By being transparent about the challenges it faces transitioning to 100% renewable electricity in difficult markets and now taking extra steps on renewable heat, Ingka Group continues to demonstrate fantastic leadership."
Today RE100 has published a blog post by Karol Gobczyński, where he shares more details around Ingka Group's ambitions and commitments to realising a 1.5°C world and meeting the Paris Agreement. You can read it here.
Media enquiries
---
For further information, journalists and media professionals can contact us at press.office@ingka.com or by calling +46 70 993 6376