During this year's Black Friday Week, many Ingka Group countries around the world ran the BuyBack Friday campaign, inviting customers to return their IKEA products they no longer need, and in return get a voucher to spend on something they really need. The campaign ran from 24 November to 3 December to coincide with the traditional Black Friday week, but the return period has been extended well into the new year in many countries to keep the stores from over-crowding. 
Thousands of customers have taken advantage of returning pieces of unwanted furniture so they can find a new home. In this first of its kind experiment, a total of 482,000 quotes were made in the online tool during the Black Friday week, and to date vouchers with a total value of EUR 2.1 million have been handed out to customers returning furniture. Customers in Australia, Germany, Netherlands and Russia showed the biggest interest, and overall the interest has been higher than anticipated.
"We're very proud of the outcome of the BuyBack Friday campaign. The IKEA vision has always been to create a better everyday life for the many people, which right now means making sustainable living easy and affordable for everyone. This Black Friday, rather than buying something they don't need, many of our customers have started to rethink their consumption habits and have given an overwhelming number of products the chance of a new life.
"On the first day of the campaign we saw thousands of pieces of furniture and home furnishing products brought back by customers, who were sometimes pleasantly surprised by the value of their products. Many had planned to take the products to a recycling station when they heard about the campaign," says Stefan Vanoverbeke, Deputy Retail Operations Manager, Ingka Group.
Today a majority of the Ingka countries already have a permanent buy back service. For Ingka Group this is about testing and promoting circular consumption on our journey to become circular by 2030. Our customer research shows that many people feel bad about throwing things away. They often want to repair, reuse or recycle but lack the time, knowledge or energy to do so. Through this campaign, Ingka Group wanted to make it easy for customers to give their furniture a second life.
Australia is one of the countries which already have a Buy Back service in place. Here the campaign saw great success, and Ryan Burman, Commercial Activity Leader for IKEA Australia explains how Australia put a special twist on the campaign:
"Within Australia, we offered to buy back furniture from IKEA Family members at double the normal rate in return for a store voucher. What's more, IKEA Australia also renamed each returned item with the name of its previous owner during the campaign period. Not only did we want to provide a way for customers to part with their furniture, but we wanted to celebrate the life of that piece and add a personal touch. By renaming the product under its previous owner, we were able to give the next owner a glimpse into its previous life as it starts a new life in a new home.
"The initiative saw a high interest from customers, with over 6,000 pieces of furniture returned by the sixth day. This is roughly 60 tons of furniture that has potentially been diverted from landfill.
"Giving furniture a second, third or even fourth life through this initiative provides more Australians with affordable and sustainable solutions for their home, and ultimately helps divert it from landfill."
Another country where the campaign was successful is Spain, where already on the first day customers had received 26,527 quotes for 77,162 articles. Like many other countries, Spain has worked hard to prioritise customer safety, extending capacities and return period, in order to ensure that stores aren't overcrowded.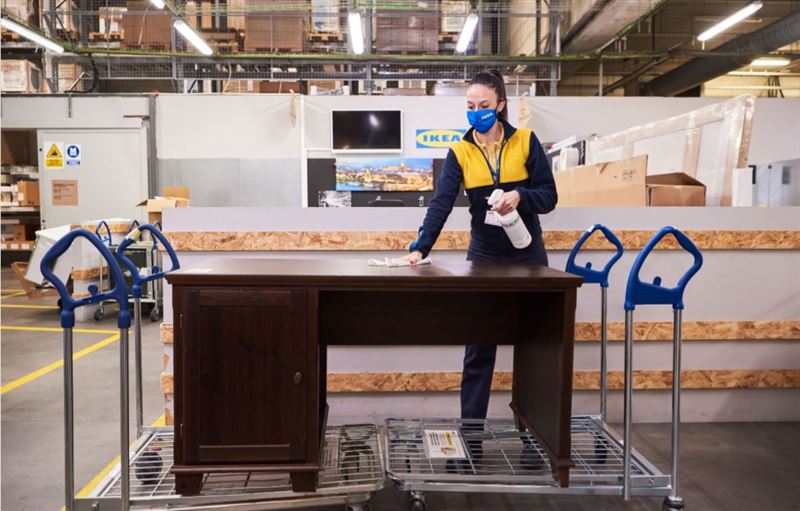 The Buy Back service will live beyond this Black Friday as Ingka Group continues to explore new solutions to make circular consumption more convenient for customers. Transforming its retail operations is a critical part of the Ingka Group circular journey and the campaign forms part of the overall IKEA journey towards creating a circular and climate positive IKEA by 2030, which includes all IKEA products being made from renewable or recycled materials.
"Being circular is a good business opportunity as well as a responsibility. As a partner in people's lives, we want to help ease worries and meet aspirations for a better home, a better life, and a better future for the planet we share", says Pia Heidenmark Cook, Chief Sustainability Officer, Ingka Group.
*due to COVID most markets have extended the time period that customers can bring furniture into stores.
Media enquiries
---
For further information, journalists and media professionals can contact us at press.office@ingka.com or by calling +46 70 993 6376