Today, as the doors to IKEA's first small store in the UK opens in Hammersmith, West London, the retailer announces a EUR 1.2 billion investment into the capital over the next three years. The announcement marks part of a long-term transformation to become more convenient and accessible by bringing IKEA closer to where customers live, shop and socialise.
To better meet its customers' needs, Ingka Group, the largest IKEA retailer, will invest in new and existing ways to shop and meet people including in new services, city-centre stores, developing existing stores and new fulfilment and delivery capabilities; making it easier and more sustainable to shop than ever before.
Peter Jelkeby, Country Retail Manager and Chief Sustainability Officer, IKEA UK & Ireland says: "Everything we do starts with our customers. Over the next three years, we will continue to transform as we respond to their needs and dreams, today and tomorrow. As one of the most innovative and exciting markets in the world for retail and e-commerce, we will step up our omnichannel investments in London with a simple goal: to become more customer centric, so that people can shop with us for a better, more sustainable life at home, whenever, wherever and however they choose."
IKEA Hammersmith will be the first in a new shopping experience for its customers. At a quarter of the size of a traditional store, it is small but perfectly formed, with 1,800 products available to take away and 4,000 on display to provide 'life at home' inspiration to Londoners. The full range remains available for delivery, alongside in-store planning services that support customers in designing bespoke solutions for more complex spaces, such as kitchens, bedrooms and bathrooms, more easily.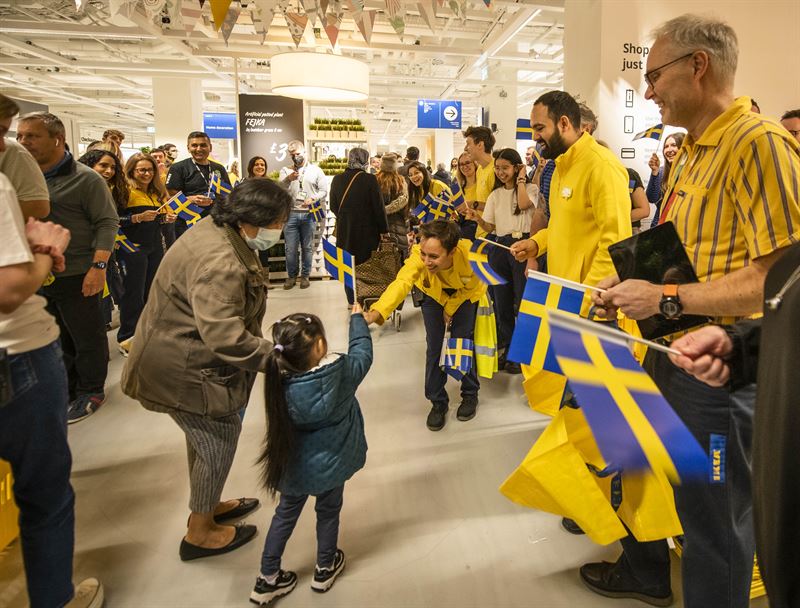 With a focus on accessibility, it's been designed around the needs of those shopping in city-centres: it will be IKEA's first cashless store in the UK, feature only self-serve checkouts and has three entrances and exits. Its new 'Swedish Deli', positioned at the edge of the store, will also open one hour earlier than the store itself to allow those in the local community, and busy commuters, to 'grab and go'. The location, chosen as a vibrant destination where people live, work and socialise, is also in close proximity to four tube lines and 68 bus routes, thereby reducing customers' reliance on private transport and impact on the environment – in a further reflection of customers' needs and wants in city centres.
The Hammersmith store opening will be followed by their highly anticipated move onto Oxford Street in Autumn 2023, with planning for the unique space underway, and other locations under consideration.
Alongside the opening of new a store, IKEA UK will continue its focus on improving the customer experience: investing in existing stores and expanding its service offering and fulfilment network:
Store investments – IKEA stores will continue to be an important part of the retailer's business model along with ongoing investments, both in new stores and in improving existing ones. Amidst a digital era, the traditional 'blue boxes' will become more than a place to shop. As well as will centres of inspiration, and the best place to offer 'the IKEA magic', they also support the delivery of online orders including Click and Collect and Click & Deliver – a competitive advantage that brings IKEA closer to its customers, reduces lead-times and lowers IKEA's impact on the environment.
Dartford Customer Distribution Centre – In December 2022, IKEA will open a new Distribution Centre in Dartford to further improve IKEA's online shopping options by expanding its fulfilment capacity by 20%, unlocking 24-hour deliveries and enabling that 60% of deliveries into the capital will be zero emission from day one; a big step towards IKEA UK reaching its goal of 100% zero emission home deliveries by 2025.
Collect Near You Lockers – In a first-of-its-kind click and collect service for furniture items, Collect Near You Lockers are a collaboration between IKEA UK, Shift and Access Self Storage. Available to customers living within a 45km radius of a locker, the service will offer even greater convenience and ways to shop at an affordable price. With two pilot sites live and three in planning – if successful, the roll out will see 20 sites added across London by the end of 2022.
Remote Planning – In response to growing demand, IKEA's Remote Planning service supports customers in planning larger purchases such as designing kitchens, wardrobes and living spaces from the comfort of their own home, without the need to travel into a store. In future, it will afford even greater convenience and flexibility, allowing customers to choose a location of their choice – such as a local café – resulting in the creation of 50 specialist roles in London.
Using London as a test-bed for innovation, the retailer will trial and develop new formats and initiatives, taking learnings from each new project to constantly improve and bring the IKEA experience closer to more people living in the UK.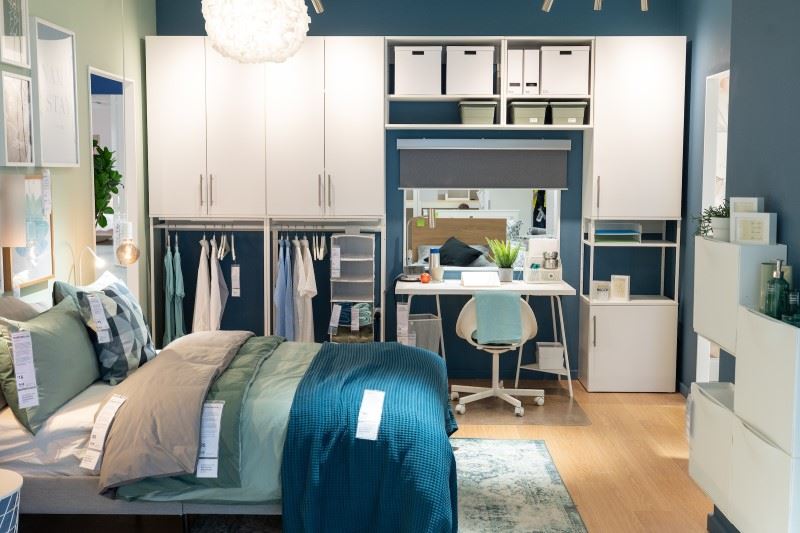 Peter Jelkeby, Country Retail Manager and Chief Sustainability Officer, IKEA UK & Ireland continues, "Whilst London is the initial focus of our city-centre approach, our vision is to create a better everyday life for the many people. All of our efforts centre on creating happy customers, and we will learn from our London approach, whilst continuing to develop plans for other city centre locations as well as the wider UK and Ireland, to bring our offer even closer."
Introducing the new King's Mall: Livat Hammersmith
The development of the Hammersmith store was enabled through the acquisition of the Kings Mall by Ingka Centres in 2019.
Since then, with an interior inspired by the company's Scandinavian roots, the space has been transformed into a lively community destination; "Livat Hammersmith", providing the local community with additional spaces for relaxing and socialising; alongside other high street favourites and a 'pay-by-the-hour' adaptive retail space to give local start-ups, pop-ups and food outlets the opportunity to grow and truly flourish.
Cindy Andersen, Managing Director, Ingka Centres said, "Today's official opening of Livat Hammersmith is an exciting step on our journey in shaping next-generation meeting places that go far beyond shopping. We know that our visitors and the wider community want more spaces in which to meet, shop, live and work, which are fun, human and enable more sustainable living. Livat Hammersmith will offer just that. This new vibrant offer, designed to reflect modern inner city lifestyles with more regular visits and fewer journeys by car, provides a place where everyone feels welcome and is encouraged to come more often to explore amazing experiences while supporting the local community and the planet".
Customers will be able to shop at the IKEA Hammersmith store when it opens at 10am on Thursday 24th February, and 9am thereafter. Shop the full IKEA product range online at www.ikea.co.uk.
Media enquiries
---
For further information, journalists and media professionals can contact us at press.office@ingka.com or by calling +46 70 993 6376.