Ingka Group surpassed its 2017 goal of a 50% reduction in combined production food waste in Ingka Group stores – contributing to IKEA's commitment to becoming circular and climate positive by 2030*
Food waste is measured and registered using AI technology and smart scales, collecting data on what is being wasted and why
Ingka Group is also exploring and testing solutions that turn unavoidable food waste into energy and nutrients
Ingka Group, the largest IKEA retailer, today announces it has reduced food waste by 54%** in its IKEA stores. That translates into more than 20 million saved meals and 36,000 tonnes of CO2e that have been avoided. This achievement results from more than 20,000 IKEA food co-workers' commitment, who were trained to use Winnow's AI technology in their daily routines and fully engaged with the company goal. Ingka Group first reached the 50% reduction milestone at the end of the year 2021, nine years ahead of the target date set by the United Nations Sustainability Development Goal 12.3.
As a global brand with a vision to create a better everyday life for the many people, reducing and preventing waste, and making the most of precious resources has always been at the heart of the IKEA business.
Around a third of all food produced and harvested around the world goes to waste, generating between eight and ten percent of global greenhouse gas emissions1. As a major global food retailer, it is therefore key that IKEA addresses this challenge. The goal, set in 2017 as part of IKEA's ambition to become circular and climate positive by 2030, was first reached by Ingka Group at the end of 2021**.
Speaking about the announcement, Karen Pflug, Chief Sustainability Officer, Ingka Group said: "I truly believe food is too precious to be wasted and that everyone has a role to play to prevent and reduce food waste, whether it is at home in our own kitchens or in our business. We know that many people around the world suffer from hunger, whilst at the same time a third of all food harvested and produced is wasted. It is clear that we need to take decisive action to play our part to change this. The impact we can all have on preventing and reducing food waste is beneficial for both people and the planet. Although this achievement represents a relatively small proportion of our overall climate footprint, it is nevertheless an important step that we are proud of, and our food co-workers have been instrumental in this. Throughout the process we learned from our mistakes, made use of valuable tools and implemented a range of solutions to bring the amount of food waste down."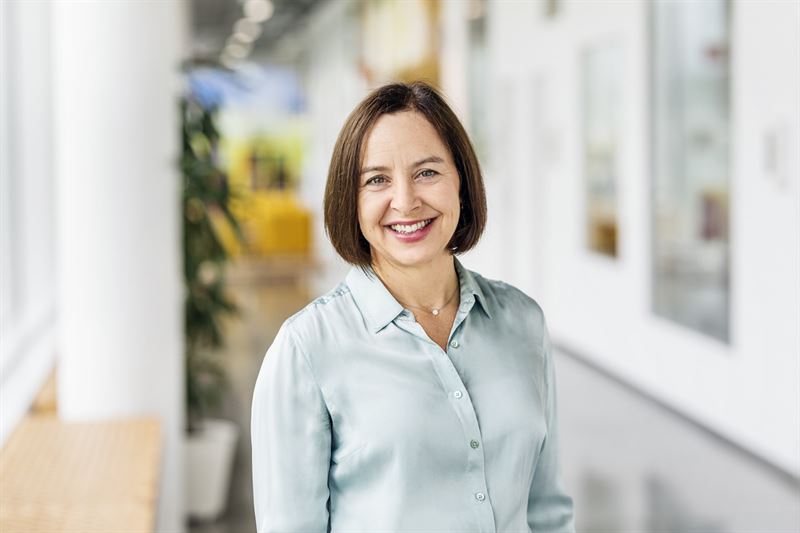 Karen Pflug
Ingka Group prepares and serves food to more than 560 million people annually and sees an opportunity to tackle the issue of food waste by combining co-worker awareness with technology. A key factor in this is the use of artificial intelligence through a partnership with Winnow Solutions. The Winnow Vision AI tool measures and registers food waste in IKEA restaurants, bistros, and Swedish Food Markets around the world. The data collected provides food co-workers with a deeper understanding of what is being discarded and why, helping them to prevent and reduce food waste in the kitchen.
"Together with our co-workers, partners and our customers we are determined to play our part, and as a global food player serving more than 560 million people every year, we want to show what´s possible and I really hope that by sharing our learnings we can inspire and encourage others to join us on this journey,"says Lorena Lourido Gomez, Global Food Manager, Ingka Group.
"This milestone has been met nine years ahead of the UN Sustainable Development Goal and shows the importance of setting bold targets, learning, and developing our approach along the way. We are committed to maintaining these results while also going further to reduce consumer waste and put unavoidable food waste to good use,"she adds.
Other food waste initiatives put in place by Ingka Group include:
Too Good To Go Partnership
Ingka Group has an active partnership to make its surplus food from IKEA food outlets available via the Too Good To Go app. Here, customers reserve and collect a 'Magic Bag' of surplus food, saving it from going to waste. The partnership is live in Austria, Belgium, Denmark, France, Italy, Norway, Spain, Sweden, Switzerland, The Netherlands, and the UK.
Turning food waste into energy
The IKEA Haarlem store in the Netherlands is testing an on-site anaerobic digester that turns unavoidable food waste from the store's restaurant and bistro into biogas. This biogas is turned into electricity that feeds directly back into the store creating a circular loop. The test also explores how nutrients from the food waste can be turned into organic fertilizer used as nutrients for growing plants***.
 1 Food Loss and Food Waste | FAO | Food and Agriculture Organization of the United Nations
Notes to Editors:
* Becoming climate positive means to reduce more greenhouse gas (GHG) emissions than the IKEA value chain emits by 2030, while growing the IKEA business. IKEA is committed to the Paris Agreement and to contribute to limiting the global temperature rise to 1.5°C above pre-industrial levels. This includes a commitment to halve the absolute net GHG emissions from the total IKEA value chain by 2030. We will achieve this by drastically reducing GHG emissions through science-based targets and by removing carbon from the atmosphere through natural processes and storing it in land, plants and products through better forest and agriculture management within the IKEA value chain. We will contribute to further greenhouse emission reductions in society by going beyond IKEA, such as enabling customers to generate renewable energy at home. Read more about the IKEA commitment here.
** The goal of reducing food waste by 50% at Ingka Group is measured as a combined reduction for all stores compared to a baseline set in 2017. As of July 2022, food waste reduction was at 54%.
*** The IKEA Haarlem store test began in mid-February 2022 and will run for one year.
About Ingka Group:
Ingka Group (Ingka Holding B.V. and its controlled entities) is one of 12 different groups of companies that own and operate IKEA retail under franchise agreements with Inter IKEA Systems B.V. Ingka Group has three business areas: IKEA Retail, Ingka Investments and Ingka Centres. Ingka Group is the largest retailer in the IKEA franchise system operating around 400 IKEA meeting points in over 30 countries. These IKEA stores had 657 million visits during FY21 and 4.6 billion visits to IKEA.com. Ingka Group operates business under the IKEA vision – to create a better everyday life for the many people by offering a wide range of well-designed, functional home furnishing products at prices so low that as many people as possible can afford it. Read more on Ingka.com
About Winnow:
Winnow develops Artificial Intelligence (AI) tools to help large businesses like retailers, hotels, contract caterers, casinos and cruise ships to run more profitable and sustainable kitchens by cutting food waste in half. The IKEA partnership with Winnow was instrumental in bringing Winnow Vision to market and in 2019 Ingka Investments, the investment arm of Ingka Group made a minority investment in Winnow. Today Winnow's technology is installed in over 1,500 locations in 50 countries saving users $42m a year, the equivalent of 36m meals rescued from the trash. Winnow is a registered B Corporation with a stated mission to connect the commercial kitchen, create a movement of chefs and inspire others to see that food is too valuable to waste.
Media enquiries
---
For further information, journalists and media professionals can contact us at press.office@ingka.com or by calling +46 70 993 6376.