It has been a year like no other as 2020 has challenged and impacted people, societies and businesses. Many people have spent more time than ever in their homes which has reshaped the way we live, work and socialise.
Businesses across the globe, including Ingka Group, have adapted their operations to the new reality.

The transformation of IKEA to become more convenient, affordable and sustainable for the many people, however, is on track and in some cases has accelerated during 2020.

Bringing IKEA closer to the many people
Ingka Group accelerated the openings of new store formats to strengthen the relationship with customers and to make IKEA more convenient. The expansion strategy includes more formats than just the traditional blue box store, such as small stores conveniently located in the cities.
In 2020, Ingka Group opened new locations in many countries, including IKEA shops in Japan and China, and small stores in Russia.
IKEA planning studios also opened in Austria, Finland, France, Germany, Japan, Russia, South Korea and Spain. Planning studios offer personalised support and advise from specialists for solutions, such as kitchens and bathrooms.
Ingka Centres, the shopping centres business of Ingka Group, operate centres which are always anchored by an IKEA store. During 2020, Ingka Centres expanded its portfolio with its first IKEA anchored smaller format urban projects in London and San Francisco.
Digital transformation
Ingka Investments acquired Geomagical Labs, a leading US-based development company of 3D and visual AI solutions for interactive home furnishing inspiration, in April 2020. The solutions plan to bring out the uniqueness of IKEA by making it easy for customers to capture and furnish their homes using photorealistic 3D representations of their furnishings.
In the spring of 2020, IKEA partnered with Alibaba to open the first virtual IKEA store on Tmall. It is the first time the company has used an external e-commerce platform for its products and home furnishing solutions. The virtual IKEA store on Tmall offers Chinese consumers access to around 3,800 IKEA products and home furnishing solutions, complementing the existing sales channels.
Promoting equality and diversity
Ingka Group launched the campaign #BeSomeonesHome, to celebrate the International Day Against Homophobia, Transphobia and Biphobia (IDAHOT) in May.

The #BeSomeonesHome campaign invited co-workers and customers to make the LGBT+ community feel at home and welcomed by embodying a shelter for all those who are discriminated and stigmatised, and struggle to find safety and comfort in their families and societies. 
World refugee day
On World Refugee Day, 20 June, Ingka Group reiterated its commitment to refugees as it continues to roll out a skills for employment concept for refugees in its IKEA Retail markets. The concept includes job training and language skills initiatives. Refugees and displaced persons are the most affected by the pandemic, making this support more relevant than ever.
IKEA introduces plant ball as an alternative to the iconic meatball
IKEA launched the plant ball to serve as a more sustainable option to the traditional IKEA meatball. The new plant ball is made with yellow pea protein, oats, potatoes, onion and apple, and it looks and tastes like meat.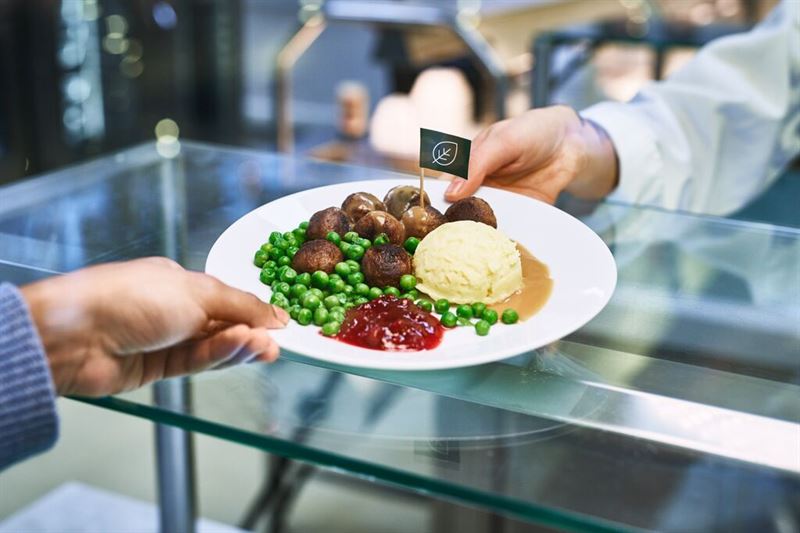 Driven by the vision to create a better everyday life for the many people, IKEA wants to inspire a more sustainable eating and lifestyle habits with a positive impact on people and the planet. With a climate footprint of only 4% of the classic IKEA meatball, the plant ball contributes to the IKEA ambition to become climate positive by 2030.
One Home One Planet
Ingka Group organised its annual two-day sustainability-focused co-creation event ONE HOME, ONE PLANET (OHOP) in September. During OHOP, Ingka Group collaborated with over 300 sustainable leaders, NGOs and business partners from many different parts of society to help develop, shape and find solutions to help to make a positive impact for the world to become a healthier, fairer and more sustainable place to live.
Ingka Group announced plans to increase sustainability investments to support the IKEA sustainability goals. The company is implementing a zero-fossil fuel approach to align with new updated environmental, social and corporate governance (ESG) standards, and is committed to taking climate action with the commitment to reduce more greenhouse gas emissions than the IKEA value chain emits, by 2030.
Opening the world's first second-hand IKEA store
In November, the first second-hand IKEA store opened in Eskilstuna, Sweden. The store, located in the recycling mall ReTuna, is part of a global innovation project within IKEA, aiming to test and develop a circular and profitable business model for the future. Within ten years, IKEA aims to design all its products based on circular principles and made by renewable and recycled materials, at the same time it must be easier for customers to prolong the life of their furniture and products.  
Giving new life to furniture
During Black Friday Week 2020, many Ingka Group countries ran the BuyBack Friday campaign, inviting customers to return their IKEA products they no longer need, and in return get a voucher to spend on something they need.
This year's BuyBack Friday campaign was the first one of its kind. Thousands of customers took advantage of returning unwanted pieces of furniture and a total of 482,000 quotes were made on the online tool during the week. Vouchers with a total value of EUR 2.1 million have been handed out to customers returning furniture.
Covid-19 impacting how we live and work
For several weeks Ingka Group closed 75% of the IKEA stores it operates across the world due to Covid-19 restrictions and lockdowns.
In March, Ingka Group granted EUR 26 million of in-kind donations to protect the health and livelihoods of communities, co-workers, suppliers and consumers impacted by the virus. Staying true to its values of standing by the side of the many people, the company supported emergency relief with in-kind donations, allowing its 30 countries in which it has operations, to take more immediate action in their local communities.
Ingka Group supported over 140,000 homeless people in 17 countries by donating nearly 130,000 products such as complete bedroom and living rooms solutions, food, plastic bags, bins and spray bottles, to help them cope with pandemic.
The company also took care of its co-workers by securing income stability, extending parental leave and offering flexible work arrangements. In addition, it decided to return the government support it received at the beginning of the pandemic, as the business recovered faster than expected.
IKEA stays relevant when life at home has never been more important
IKEA continues to be fascinated and curious about the home. In the annual Life at Home Report, it found that two in five people have made changes to their homes to better suit their needs.
The Big Home Reboot Report shares findings from across 37 countries and investigates the future of the home, in terms of the way we live, and around our relationships with our homes.

Despite the economic and public health challenges posed by the pandemic, Ingka Group continues to accelerate its retail transformation, repurposing its stores to fulfilment units, implementing click&collect services, offering pick-up and drive-through options as well as developing a more seamless IKEA experience with new digital solutions.
Media enquiries
---
For further information, journalists and media professionals can contact us at press.office@ingka.com or by calling +46 70 993 6376