1st July marks twenty years for you at IKEA, Wim. Congratulations!
Why did you choose IKEA, and did you imagine that your career would take you to the role of co-Chief Digital Officer when you joined?
Firstly, thank you! It is hard to believe that it has been twenty years since I became an IKEA co-worker for the first time. I grew up in the Netherlands and studied logistics and economics at the University of Applied Sciences Utrecht. I always felt that IKEA was a match for me in terms of culture, values, and leadership but there was no logistics role open at the time. So, I took a chance and my first role was as a Store Operations Manager. I joined with just six weeks to go to a store opening and the ride has just been just as wild and fun since then! When I reflect, I can see that this is a theme that has followed me throughout my career. At IKEA you can truly grow and explore your passions in unexpected ways, and luckily I thrive in new and challenging situations.
How important have the IKEA culture and values been to you over the last 20 years?
Easy! They are the reason I joined, and they are the reason I am still here. Like life, every career has its ups and downs. However, I believe that what is unique about IKEA is our people-led approach. Whether it be challenges or opportunities, at the end of the day it is all about togetherness and how we interact with each other. In my experience this is true in both my professional and personal life.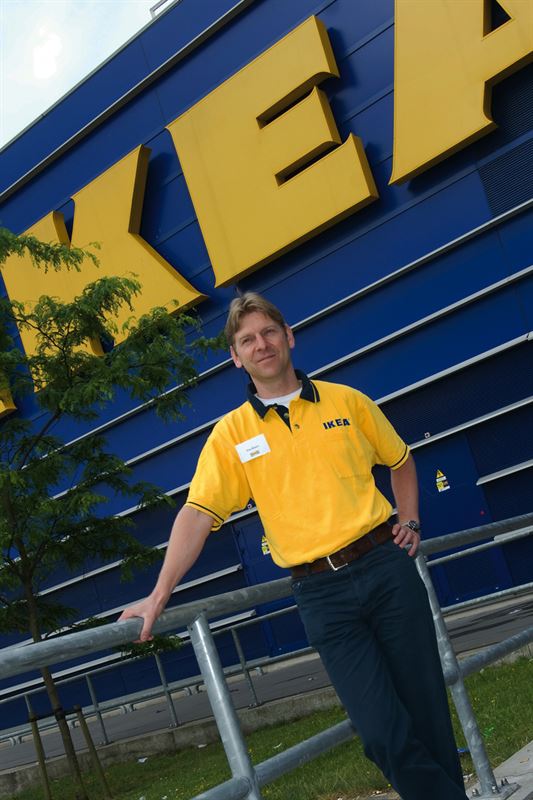 Wim Blaauw, 20 years ago
What has been the most memorable moment during your time at IKEA? Can you remember an experience that was challenging but brought people together?
We are most probably in one of the most challenging periods the world has faced, from the war in Ukraine, to climate change, to the lasting impacts that Covid-19 have had on society and businesses. Where I feel hopeful is that I can already see that it is bringing us even closer.
To link back to something Ingvar Kamprad said, and I'm paraphrasing here, but if we can strive to make every day just a little bit better, then we are creating positive impact.
Looking at highlights over the years, it is hard to pick just one. My time as deputy CEO for UK & Ireland was special for many different reasons. It was my first real experience leading a big transformation, and from a personal experience moving with my wife and young kids to a new country was a story with many successes and great fun along the way.
When I worked in group customer fulfilment we had both a cost and customer satisfaction challenge. We looked into our processes, ways of working and organisation design. We became much more market led with clear responsibilities for operations and development and we turned it around
In the Netherlands when I was part of the commercial team our tagline became "passion, togetherness and sense of urgency". This helped us through the tough times, especially one memorable sales challenge.
But we are never done and Ingvar said it beautifully but also in an engaging way; "most things remains to be done. Glorious future!"
Can you tell us about the digital transformation at IKEA, and where you want it to be in the next five years?
At IKEA we are realistic. We know that the first thing that springs to mind are "big blue boxes" when people think of us, and not technology or digital innovation. In fact we are undergoing the biggest digital transformation in our almost 80-year history. When I joined the digital organisation two years ago this is what attracted me. The challenges and the opportunity to bring the same IKEA magic that our customers experience in store to every interaction they have with us. We put people at the heart of everything we do – designing customer & co-worker experiences that are inclusive, equitable and diverse.
In terms of my wish for the next five years, I want us to keep our "friendly rebel" spirit, and the vision of wanting to do the right thing for the many people and for the planet we all call home. We commit to only using data and technology as a force of good and will have exciting news coming around this in the near future.
We also just launched IKEA Kreativ in the US market, a new AI-powered experience empowering customers to create lifelike room designs. IKEA Kreativ combines decades of IKEA life at home expertise with the latest developments in spatial computing, machine learning and 3D mixed reality technologies. If that's not magic I don't know what is. I look forward to this being rolled out in more markets, and further exploring the opportunities of marrying our life at home knowledge with technology.
Thank you, Wim. And congratulations again!
Thank you, here's to many more years of challenges, opportunities, and, of course, fun.
Media enquiries
---
For further information, journalists and media professionals can contact us at press.office@ingka.com or by calling +46 70 993 6376.