Ingka Group CFO and deputy CEO Juvencio Maeztu shared his experience on what is needed for businesses to become climate positive as he spoke to global and Korean business and government leaders at the 2021 P4G event.  
Under the theme of 'Inclusive Green Recovery towards Carbon Neutrality', global leaders of business, government, civil society and academia are gathering at the 2021 P4G (Partnering for Green Growth and the Global Goals 2030) Seoul Summit, the first multilateral environmental Summit held in Korea.

Juvencio was participating as a keynote speaker at a Green Future business forum on ESG (environmental, social and corporate governance) and Green Tech on 27 May, organised by the Korea Chamber of Commerce. The session was an opportunity for the business community to share ESG policies, learning from each other's experiences. It was also a chance to stimulate the spread of environmentally friendly business models.

Speaking from the Netherlands, he explained actions are what counts regarding climate change.
By 2030, the IKEA ambition is to inspire and enable more than 1 billion people to live a better everyday life within the boundaries of the planet and to be climate positive by reducing more greenhouse gas emissions than the IKEA value chain emits, while growing the IKEA business. 
The IKEA vision is central to taking decisions and doing good business for Ingka Group. "The importance of having a purpose, in our case the IKEA vision, is to create a better life for the many people. And we can all agree that this vision, our purpose, has never been more relevant than today," Juvencio explained.

He added: "It is providing us with a compass to take decisions. Because the important thing is to secure that this purpose is embedded in the business, is understood by people and is supporting the decision making. It's extremely relevant to build financial resilience that is able to support this vision."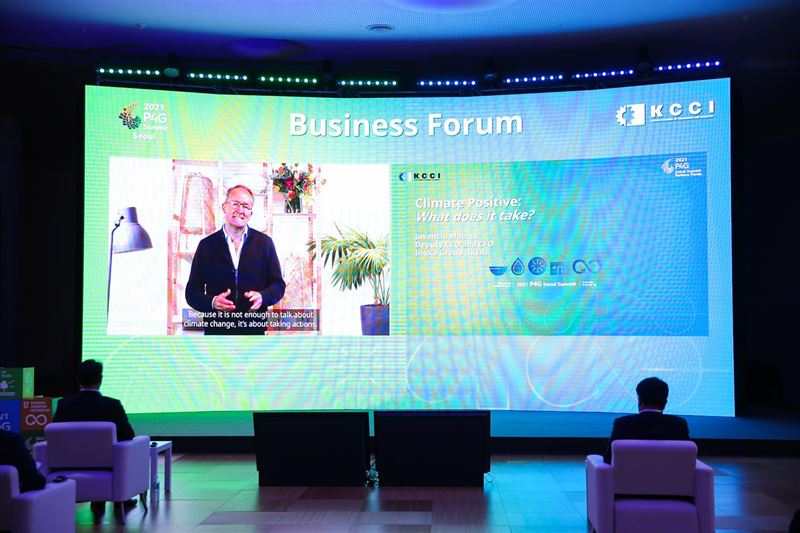 He asked the question: "What does it take to become climate positive?" as he illustrated five important themes to help ensure sustainability is at the heart of business decisions.
Value of purpose. The IKEA purpose is clear, that is the vision to create a better everyday life for the many people, by making IKEA more accessible, more affordable and people and planet positive. 
Holistic view of performance. This looks beyond just financial performance, but instead analyses performance across how it impacts customers, people, planet and the company itself. While also highlighting how Ingka Group has showed it is possible to grow a business while reducing greenhouse gases.
Integrating sustainability into the business is key and how investment decisions are taken on both financial returns and the social and CO2 impact. 
Busting myths and tackling dilemmas. IKEA has the power to highlight to the many people what can achieved with thin wallets and that sustainability isn't a luxury for the few.  
Engagement and collaboration. No-one can do this alone! Business, big and small, NGOs, governments can still change the direction and create a future we all want to be part of. We need to come together now.  
 Juvencio finished by stressing the importance of working together. "We all together have to change behaviour. At the end of the day it's about taking actions together. No one can do everything, but everyone must do something. And it's taking actions together that is the recipe to become climate positive."

IKEA Korea leading the way
IKEA Korea has a role to play in the country to drive climate change awareness. As a leading company in Korea creating a sustainable future for people and the planet, IKEA Korea is supporting Korea's efforts for green recovery towards carbon neutrality. Actions include:
Increasing energy efficiency in IKEA Korea stores by investing in sustainability solutions and becoming circular. Three out of four stores in Korea are certified 'very good' by BREEAM (the world's leading sustainability assessment for buildings)
Offering a wide range of affordable home furnishing products that enable a more sustainable life
Ensuring zero emissions from furniture deliveries by 2025. IKEA Korea has exceeded their FY21 goal of 20% and are now at 25% EV delivery
Additionally, IKEA Korea has been promoting the importance of sustainable living in its showrooms in all four IKEA stores during May, inspiring more of the many to join the movement to protect our planet from climate change.
Sweden+Korea Green Transition Alliance
IKEA Korea recently joined the Sweden+Korea Green Transition Alliance. It brought together the Embassy of Sweden in Seoul, Business Sweden, the Swedish Chamber of Commerce, and 13 Swedish companies in Korea.

The companies will work together with Korean industrial partners to not only support but also help raise the ambition of Korea's efforts towards a green and carbon neutral society ahead of 2050.
Media enquiries
---
For further information, journalists and media professionals can contact us at press.office@ingka.com or by calling +46 70 993 6376