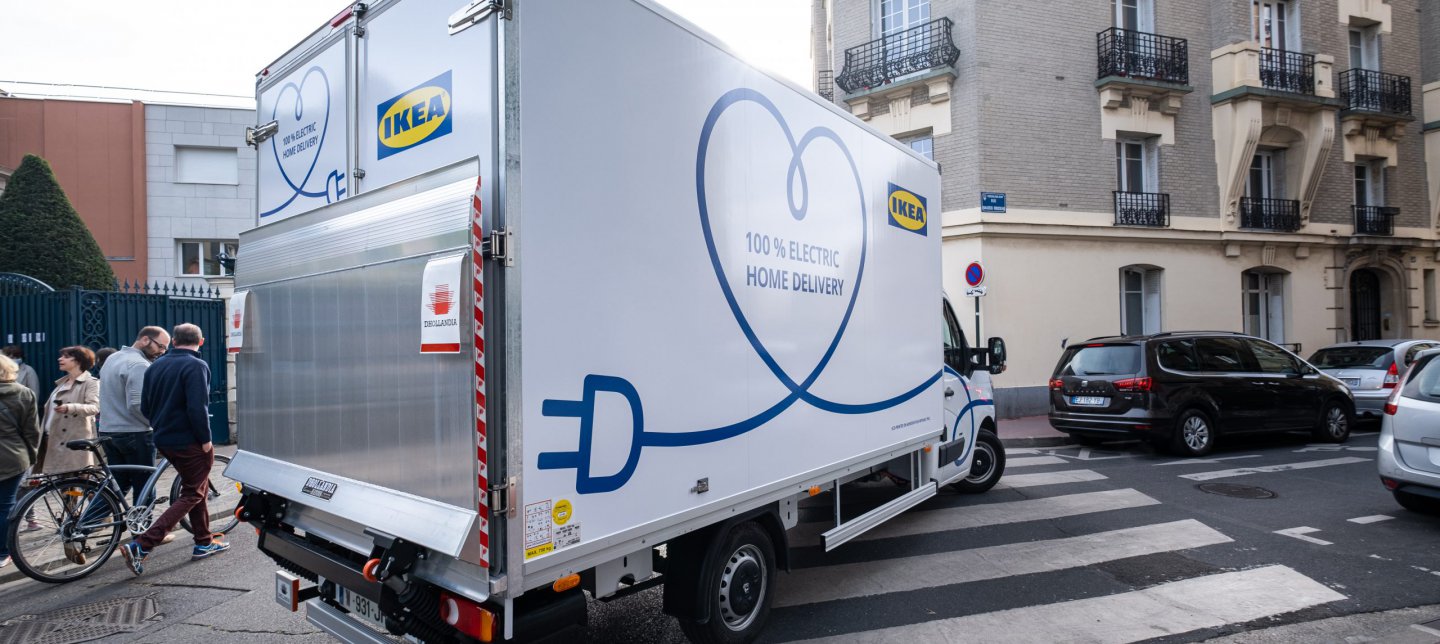 New electric vehicle prototypes for a more sustainable home delivery
As part of our zero-emission commitment, Ingka Group has completed two rounds of tests of new electric vehicle (EV) prototypes for home deliveries. This is part of our efforts that 100% of customer home deliveries are done by EV or other zero-emission solutions. By end of 2020, the goal is for major cities Shanghai, Amsterdam, Los Angeles, New York and Paris to have 100% EV home deliveries – with all other countries by the end of 2025. As of 2019, a year ahead of target, all IKEA home deliveries in Shanghai are done by electric vehicles.
EV delivery is not new, yet existing electric last mile solutions on the market weren't optimized for needs such as parcel sizes requiring larger vehicle dimensions while also accommodating for city center deliveries. The tests were done with up to 20m3 box body trucks that enables us to load orders with full carton pallets specific to IKEA. This way of working means faster loading, as well as minimizing the number of vehicles on the streets by fully using the space within each truck.
During the summer of 2020, Ingka Group completed two separate electric prototype vehicles tests in collaboration with Renault and MAN. The tests, conducted in Paris, Vienna and Berlin, are part of a wide range of efforts Ingka is undertaking together with service partners and manufacturers to meet our 100% zero emission goal. Soon, London, England; Stockholm, Sweden; Copenhagen, Denmark; Oslo, Norway; and Turku and Tempere in Finland will also begin using the electric prototype vehicles with more cities and external service partners eager to join in.
With these innovative collaborations, Ingka Group is helping bring forth change in the zero-emission last mile sphere by influencing different aspects of the journey – from charging infrastructure and governmental regulations to the actual development of suitable vehicles. Together with key manufacturers, we are opening up for the wider industry so that customers can demand more sustainable deliveries in the future.
"In order to meet our zero emission goals, we needed to find a way around the existing conditions and look for partners willing to work with us to develop new prototypes and test in a city environment," comments Raphael Guillard, Customer Fulfilment Strategic Sourcing Leader at IKEA Retail (Ingka Group).
Read more about how we are switching to 100% zero-emission home deliveries in all markets by 2025.