As IKEA continuously explores ways to enable people to live healthier and more sustainable lives within the boundaries of the planet, three significant Urban Farming projects are coming to fruition. 
Featuring solutions that will provide resource-friendly, locally grown for IKEA Bistros and Restaurants, and a homegrowing product, the Urban Farming initiative will allow IKEA stores and customers to grow affordable, accessible and sustainable greens.
"I think growing food is a fundamental part of being human," says Sara Segergren, Innovation Leader for our Urban Farming projects. "It's good for us, it's good for our mental health, and done right, it's good for the planet, too." As part of the Ingka Group´s Strategy, Development and Innovation team, Sara is tasked with growing our Urban Farming agenda.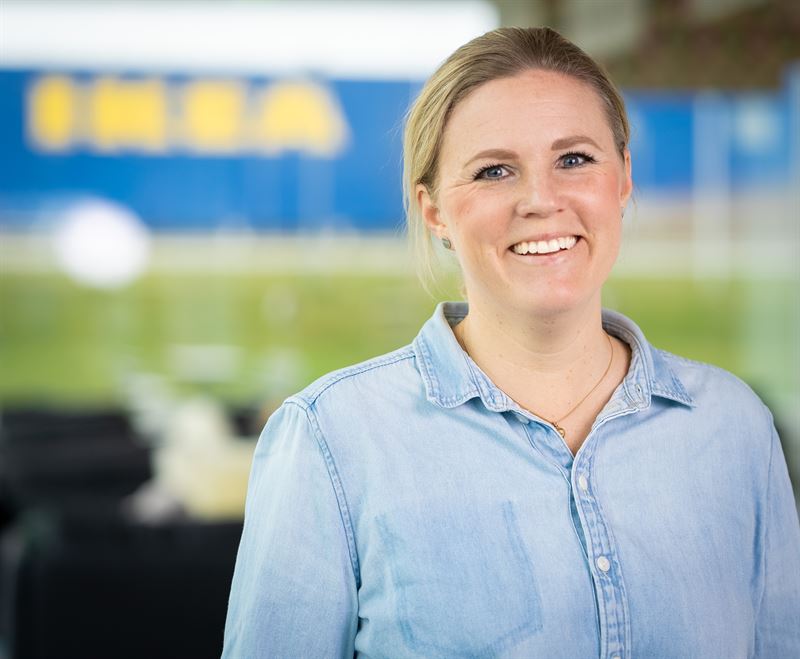 "Our main goal is to make Urban Farming accessible, affordable and sustainable for the many," Sara Segergren says. "With our approach, know-how and global reach, we think that IKEA can have a powerful leadership role in this."
So how has our Urban Farming portfolio been growing?
In 2019, we started a test growing sustainable salad for our co-worker's restaurant directly from a container outside the IKEA Malmö store. In 2020, we moved a step forward with a pilot this time, featuring a new Urban Farming container serving more locally grown greens for the customer restaurant as well. "In short, the big change is we now own it, our co-workers run it and it's even more efficient at growing greens." Summarises Sara.
What began as a service run by an external partner, is now part of the Malmö Food Team every day. Harvested fresh, three times a week, the container (at 75% capacity) provides between 40-50 kilos of crispy produce at peak nutrition for the busy IKEA Malmö Bistro and Restaurant. By using 100% locally grown greens produced with 90% less water than traditional farming, the IKEA Malmö pilot shows how we can cut food miles to food metres, effectively lowering the carbon footprint from long-range food production and distribution systems.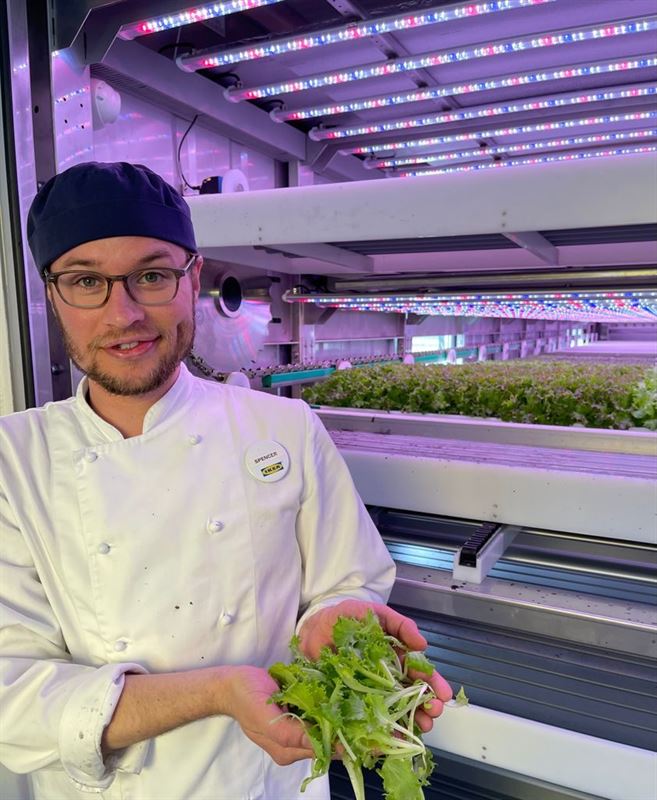 An IKEA co-worker harvests 100% locally grown salad, grown in the parking lot of IKEA Malmö — two minutes away from the Restaurant where it will be served.

"By serving produce within hours of harvesting, we are able to provide our customers with tasty, healthy food at peak nutrition with minimal wastage," Sara Segergren says. "As IKEA works towards becoming circular and climate positive by 2030, we are now exploring how to expand the project to our other markets around the world."
Cultivating confidence for growing at home
Over the past few months, visitors to Stockholm's IKEA Kungens Kurva store have been able to experience Urban Farming in action, up close and easy to see. "By featuring a grow cabinet in the restaurant, we've been showcasing how plants can be grown in vertically stacked layers using hydroponics," says Lotta Valind, the project leader for the initiative. "Ultimately, we want to show co-workers, customers, policymakers and opinion leaders that you can grow high-quality greens where space is tight, without soil or sunshine, or herbicides and pesticides. All-year-round and right where you eat."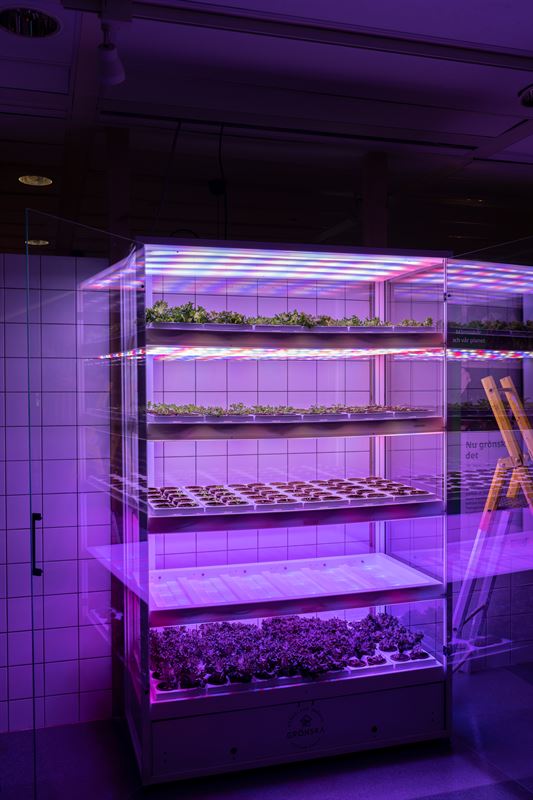 Currently being run as a test, the project will be moved to a pilot status later in the year with the view to being replicated in more stores.
"The beauty of growing produce in our stores for all to see," Sara Segergren says. "Is that our customers can see the growing process, see the fresh produce that comes out and feel inspired to replicate their own Urban Farming at home. It ultimately helps people take an active role in healthy, tasty, sustainable food production — and our co-workers are there to help them on that journey."
Growing for the modern green thumb
In the middle of winter, the Canadian city of Edmonton can shiver for weeks at –20 °C and experiences few sunlight hours per day — all of which makes it the ideal place to retail test home-growing systems in order to gauge demand and perception from the public — in an environment where they could have the most impact.
Along with Toronto's IKEA Etobicoke store, IKEA Edmonton has been offering its customers a homegrowing solution to test price, messaging and customer demand — all with the view to better create a stronger product.
The test, a collaboration between Ingka Group, IKEA of Sweden and IKEA Canada, found the local market for homegrowing is vast and overwhelmingly positive, with a demand for affordable, sustainable and easy to use systems.
The next steps will see the collaboration continue with the development of new homegrowing products for the public in the future.
Media enquiries
---
For further information, journalists and media professionals can contact us at press.office@ingka.com or by calling +46 70 993 6376