Ulrika Biesèrt, Global People & Culture Manager, Ingka Group, said that the Covid-19 pandemic had stress-tested the company's culture during an event on Wednesday 21 April that explored how the world is redefining work post-Covid. 
"Looking back on our most recent year, I think it's fair to say it was our most challenging, but a successful one," Biesèrt said. "And I truly think we were able to achieve this type of performance because we ground our work in our vision and values, striving to take responsibility and take care of people."
The Future Work Scenarios (FWS) summit brought together human resources and transformation leaders from the world's top employers to reflect on the lessons learned from the past year and how we now set up in a different world of work.
Biesèrt's wide-ranging speech laid out the details of how Ingka Group quickly adapted in the spring of 2020 as the Covid-19 pandemic spread.
She highlighted the company's commitment at the start of the pandemic to ensure income stability for co-workers and to safeguard basics such as medical insurance and pensions. "All of this created room for business and people to adopt to the new situation and to create a better sense of safety among co-workers," she said.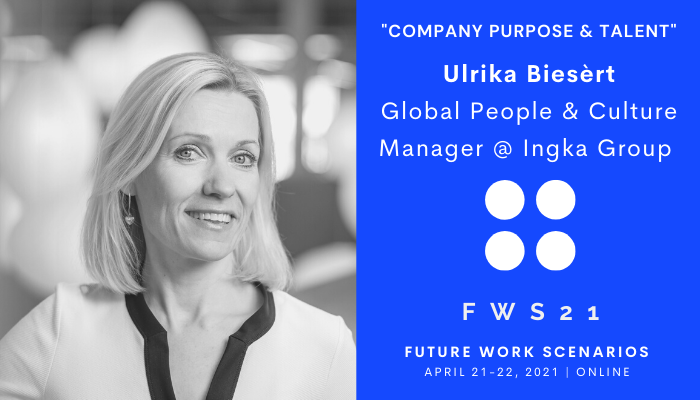 In the spring of 2020, Ingka Group also, among other initiatives:
Invested in learning at home, where more than 75,000 co-workers participated in trainings, eventually logging 2.2 million learning hours over 2020.
Helped communities in most need with 26 million euro in emergency relief, allowing 30 country organisations to take action in their communities.
Supported 600,000 people in collaboration with NGOs, prioritising the needs of high-risk groups and the people leading relief efforts.
Launched two large-scale global initiatives for co-workers that focused on long-term resilience, and included mindfulness, health and wellbeing training, as well as strengthening leadership.
Business in an inclusive way
Biesèrt stressed on Wednesday that Ingka Group has been caring for people long before the pandemic, growing the business in an inclusive way with equality in focus. With this purpose in mind, Ingka Group has an equality plan that is a commitment to take a bold stand for equality, within IKEA and in the world.
"I'm happy to say that half of our managers are women and that we have made a commitment to increase ethnic, racial and national diversity at all levels of leadership in 30 countries by 2024," she said.
Also, Ingka Group has an ambition to have a 50/50 gender balance across all levels and positions, including boards and committees, by the end of 2022. Plus, there is a long tradition of supporting LGBT+ rights and fostering a culture where everyone feels safe to be themselves. Today, 80.3% co-workers feel included at Ingka Group, compared to 74.6% at other companies, and 82.7% feel they can be themselves at work, compared to 72.7% at other companies.
A meaningful workplace that's purpose-led
Biesèrt emphasised that Ingka Group takes the long-term perspective, thinking for generations to come in all it is doing.
"When we step back and take a look at the bigger picture, the massive impact of Covid, plus demographic shifts, growing inequality, political instability and climate change underlines more than ever that companies stand up and take a responsibility," she said.
Equally, like all companies, Ingka Group is transforming, faced with digitalisation, automation, a platform economy, diversifying workforce models and changes in traditional retailing.
"These changes mean that life-long learning and innovation are prerequisites, and our future needs are about unlocking skills and driving growth," she said.
Indeed, Ingka Group has committed to upskill and reskill co-workers with the aim to secure as many jobs as possible for as long as possible. In addition, this commitment will strengthen co-worker's long-term employability and accelerate the creation of new jobs.
Another key point is that the company is on a journey to transform its total learning concept to be fit for the future to address critical business and people needs.
In her closing remarks, Biesèrt said the winners in the future are the ones who truly show that they are humanistic, purpose-led and performance driven.
Media enquiries
---
For further information, journalists and media professionals can contact us at press.office@ingka.com or by calling +46 70 993 6376