Affordable, stylish and sustainable homes, co-created by IKEA and building company Skanska, are being snapped up by UK buyers – a major milestone for the 'BoKlok' housing project that has been building homes in Scandinavia for over 20 years. 
The development of 'BoKlok on the Brook', in the city of Bristol, south-west England, marks the first time that these IKEA and Skanska BoKlok branded homes have been available on the market outside of Scandinavia, adding to the portfolio of 14,000 homes in Sweden, Finland, Denmark and Norway.
The new BoKlok community offers a choice of various sizes of houses and apartments, set within green areas and playgrounds. The brook that gives the development its name will also benefit from extensive regeneration.
When the project was announced in December 2020, over 2,000 people registered their interest. Two sales phases in March and June 2021 led to all 94 homes being reserved or sold on binding contracts.
There are plans in place for several British projects, starting in Worthing, on the south coast.

What is BoKlok?
BoKlok is a home ownership concept, co-created by IKEA and Swedish company Skanska, the fifth largest construction company in the world. The first BoKlok homes were built in Sweden in 1997.
IKEA UK's Interior Design Leader, Jaime Gonzalez Rosa, is the lead of the interior design and show home furnishing of the project. He explains how BoKlok began:
"Everything started with our vision: to create a better everyday life for the many. BoKlok builds on IKEA founder Ingvar Kamprad's mission to provide affordable homes. Our ethos is to build beautifully designed, sustainable, high-quality homes, making home ownership accessible for more people."
Bringing BoKlok to Britain
Home ownership is a growing area of concern in the UK. Soaring house prices, a shortage of low-cost homes, and a disproportionally large rental market have left 40% of adults renting, rather than owning, their homes. This is where BoKlok can make a difference.
"We make it possible for people with average incomes to realise their dream of owning a home of their own," explains Jaime. "Furthermore, our UK builds are approved for the government's Help to Buy scheme, which helps first-time buyers by requiring only a 5% deposit and offering an interest-free loan to cover up to 20% of the costs."
Design and development
"All BoKlok houses follow a Scandinavian modern design approach," explains Jaime. "Simple, functional, bold and playful – classic IKEA. The Bristol homes have two different themes, one monochrome and the other with more neutral, earthy tones."
Viewers and potential buyers have been thrilled with the results.
"Visitors have commented on how light and spacious the homes are. The entrance halls and large gardens have been a particular hit. The bathrooms have been praised for the quality of finish and all the fixtures and fittings that are included."
New owners also receive a GBP300 IKEA voucher, two hours with a free handyperson, and a 1.5 hour session with an IKEA Interior Designer.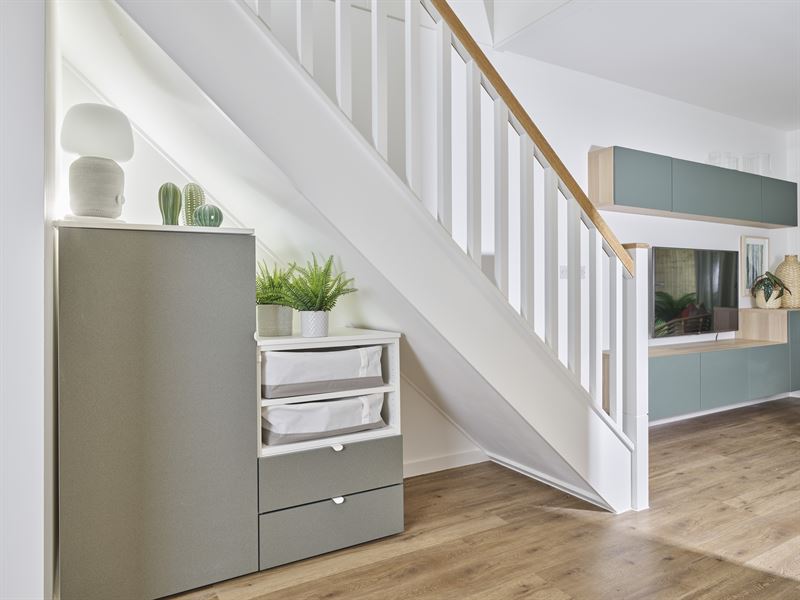 Sustainability focus
Sustainability is a central part of the BoKlok ethos, aligned with the IKEA goals to become climate-positive by 2030. All BoKlok homes are timber-framed and prefabricated in factories, rather than fully constructed on a building site. The carbon footprint is less than half that of a normal build. And the houses are delivered in half the time. Internal features are built with the environment in mind to minimise heat loss, promote efficiency and save water.
"We do as much as possible to minimise environmental impact," says Jaime. "We recycle most of our leftover materials – less than 1% gets thrown away."

Looking ahead
BoKlok on the Brook is proof that IKEA and Skanska homes can work outside of Scandinavia. 'BoKlok on the Lake' in Worthing, Sussex will be the second development, offering lakeside apartments not far from the city centre, with nature on their doorstep and great outdoor recreational amenities.
Media enquiries
---
For further information, journalists and media professionals can contact us at press.office@ingka.com or by calling +46 70 993 6376