All over the world, people want change and so does IKEA. Better, healthier, and more sustainable lives. A greener, fairer, and more accepting world. With a decade left to protect our planet from the worst effects of climate change, we need collaborative action. 
This is why Ingka Group has created ONE HOME, ONE PLANET 2020 (OHOP), an action-orientated two-day virtual sustainability event on 2 and 3 September, to bring together nearly 300 purpose-driven doers and key influencers from different fields, who are full of ideas and solutions, to create a better world.
With OHOP 2020, Ingka Group, in collaboration with others, wants to break down barriers to solving key social and environmental challenges facing the world – challenges that now, more than ever, need urgent attention. The ultimate goal together is to inspire action and spark change in the areas of climate change, inequality and resource scarcity, to collectively build back better and create the future we all want to be part of.
The first edition of OHOP was held in 2019 at IKEA Kaarst (Germany).
"We're facing a critical decade, maybe the most important for humankind and if history has taught us anything, it is that the most dangerous thing we could do is to think short term. Leaders must now join hands to build back the greener, more resilient future we want to be a part of. This is our common purpose," says Jesper Brodin, chief executive officer (CEO), Ingka Group.
Participants at this year's OHOP include Alan Jope, CEO, Unilever; Jerome Foster II, Executive Director, OneMillionOfUs; Christiana Figueres, Former Executive Secretary, United Nations Framework Convention on Climate Change 2010-16 and Julia Kumari Drapkin, Founder and CEO, ISeeChange, among others, besides several IKEA and Ingka Group leaders.
The OHOP 2020 collaboration themes are:
Accelerating the transition towards a society powered by 100% renewable energy
Creating opportunities for all people to thrive in a diverse and fast-changing world
Exploring life and society in a changing world
Making sustainable living accessible for as many people as possible
The IKEA vision is to create a better everyday life for the many people and enable healthier and more sustainable living for millions of people; accelerate the transition towards renewable energy; and create a fairer, more inclusive world where more people can thrive.But none of this can be done alone.
Ingka Group believes all of us – governments, corporates, cities, businesses big and small, civil society and every individual – have an important role to play. (Video)
"We're moving towards becoming people and planet positive and are putting sustainability at the core of our offer. By truly understanding and pre-empting changing customer and societal need we are co-creating sustainable living solutions and circular services with our customers," says Pia Heidenmark Cook, Chief Sustainability Officer, Ingka Group.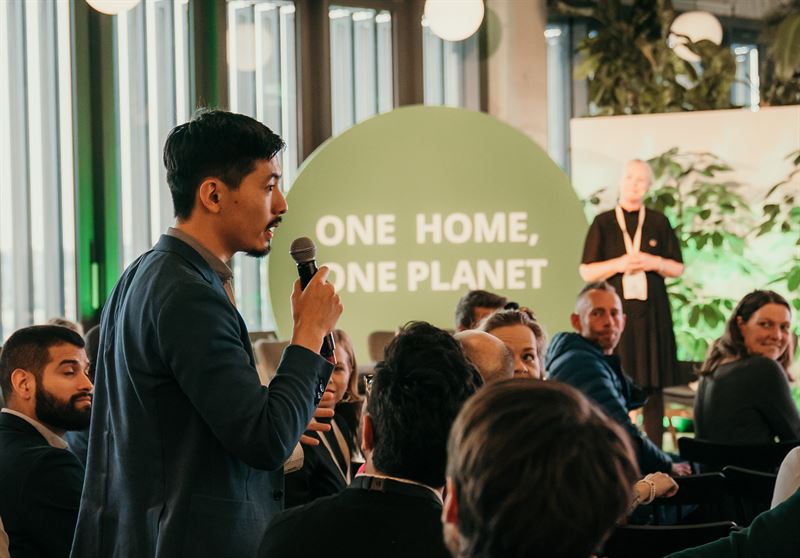 THE TIME TO ACT IS NOW
The outbreak of the COVID-19 pandemic this year has shown how fragile the world we live in is. The pandemic has emphasized the need to strengthen the resilience of people, businesses and economic systems. From human loss to economic hardship, nothing could have prepared us for the outbreak of COVID-19. IKEA will become people and planet positive by 2030 and inspire a billion people to live within the limits of the planet. Only a decade stands between now and 2030 and despite the significant challenges that the world is facing, Ingka Group believes it is still in our own hands to change the direction and use the recovery to build back better.
"Our vision is more relevant than ever. Sustainability is becoming the defining issue of our time. We are pushing forward to reach the IKEA ambition for 2030 to become a circular and climate positive business and offer healthier, more sustainable solutions at scale that more people can afford. It is critical that we now create the future we want to be a part of and build back better," says Brodin.
Ingka Group is committed to the Paris Agreement and to actively contributing to limiting the rise of global temperatures to 1.5°C above pre-industrial levels. It is also committed to the Women's Empowerment Principles, to the UN Sustainable Development Goals, and support the European Green Deal, Europe's new growth strategy for a climate-neutral continent by 2050.
Media enquiries
---
For further information, journalists and media professionals can contact us at press.office@ingka.com or by calling +46 70 993 6376