· Company rolls out job training, language skills initiatives for refugees in 30 countries
IKEA Retail (Ingka Group) will continue to roll out a skills for employment concept for refugees in 30 countries this year as a part of its commitment to support refugees. Ingka Group will do this through job training and language skills initiatives in 300 IKEA units, the company says, reiterating its commitment to refugees in honour of World Refugee Day on June 20.
At the first Global Refugee Forum in Switzerland in December 2019, Ingka Group had announced that 2,500 refugees will be supported to improve their skills for employment by 2022. Inter IKEA Group announced it will create sustainable livelihood for 400 women through its partnership with Jordan River Foundation and the IKEA Foundation announced it commits EUR 100 million in grants over the next five years for programmes that help refugees and their hosting communities improve their incomes and become more self-reliant.
So far, 90 IKEA stores across 11 countries (in which Ingka Group operates) have developed skills for employment initiatives with the aim of preparing refugees for employment with Ingka Group or other companies.
"Having employment is essential for long-term and successful integration in a host country. We know from experience that refugees are highly motivated to work and that they have skills, viewpoints and experience that can benefit societies and businesses. Every IKEA market or unit that has carried out a refugees' skills for employment initiative has found it to be mutually enriching. Our goal is to lead with our action, to influence the narrative around refugees and to create a supportive policy environment," says Tolga Öncü, Retail Operations Manager, IKEA Retail (Ingka Group).
By 2025, all Ingka Group countries will implement skills for employment programmes that support its recruitment needs. This is part of the commitment that Ingka Group has made to support the most vulnerable people in local communities where it operates in. The commitment includes skills improvement initiatives, income opportunities through partnering with social entrepreneurs and donations to create places to call home.
Ingka Group is on a continuous journey to create a better everyday life for the many people. And, equality, diversity and inclusion are in the company's DNA. That's why Inter IKEA Group, Ingka Group and IKEA Foundation are already supporting refugees.
Also, while all of us are affected by the Covid-19 pandemic, refugees and displaced persons are most at-risk. In this context, supporting refugees is more relevant than ever.
"As we have outlined in the Ingka Group Equality Plan, we want to advocate for a more equal society and become activist for societal change. At the same time, we want to inspire and engage customers and communities to become change makers for equality," says Ulrika Biesèrt, People & Culture Manager, Ingka Group.
Products designed to create jobs
In partnership with Jordan River Foundation, IKEA of Sweden has designed and developed IKEA textile products produced by refugees and local women in Jordan. Now entering its second year, the initiative is ready to scale-up, increasing the number of job opportunities. By 2022 all Ingka Group countries will sell entire collections and single article products made by River Jordan Foundation. With this commitment, they can create more jobs for local Jordanian and refugee women – from 250 to 400. In October 2020, the first cushion cover will be launched from the collection TILLTALANDE.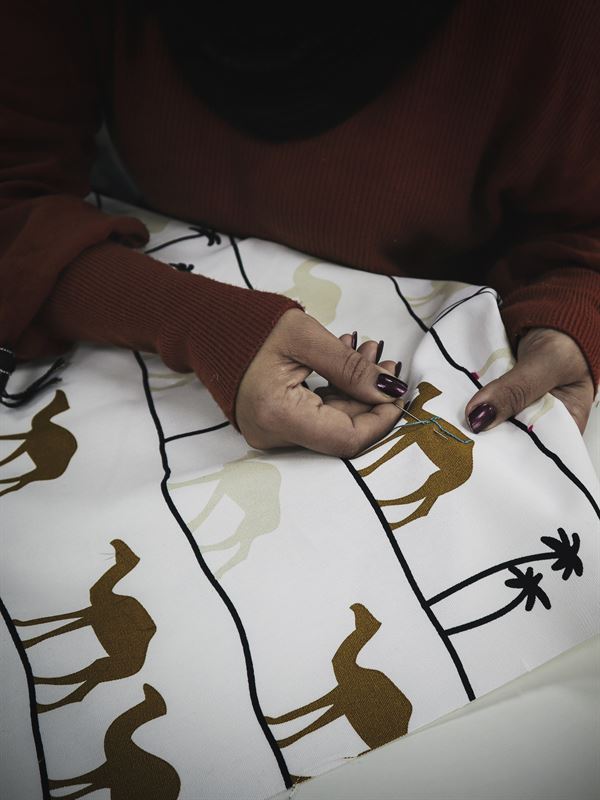 Rajaa Albalbisi, fled war torn Syria in 2014 when she was 17 years old and came to Jordan. She took a 25-day course at River Jordan Foundation to learn seamstress skills and start working in a factory. "There is nothing more important than this job. I am happy with how I am being treated here, I have learned a lot and the income really helps," says Albalbisi.
Media enquiries
---
For further information, journalists and media professionals can contact us at press.office@ingka.com or by calling +46 70 993 6376